[11 JAN 00] ALIEN NATION MUSEUM NEWS
Coventry's Alien Nation

A Coventry man was so impressed with a Hollywood sci-fi programme that he set up a fan club and a museum for fellow enthusiasts.

Alien Nation enthusiast Pete Chambers watched the show and wanted more information so he contacted the programme makers – and now he runs their only appreciation club.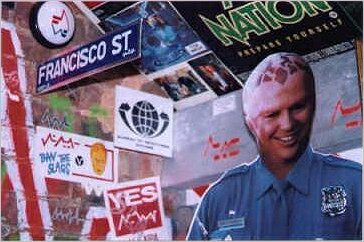 INSIDE THE ALIEN NATION MUSEUM

Stoke-based Chambers, 42, has a museum of memorabilia in the converted attic of his home and he admits that the show fascinates him.

He said:
"I love to watch programmes that make you think and Alien Nation certainly does that.

"I watched it and I was so interested that I got in contact with some people and it has snowballed from there.

"I have a web site which carries a whole load of news about the programme and pictures of memorabilia and that kind of thing, and when the show was still being screened we had in excess of 300 members.

"Unfortunately that is dwindling a bit now because Sky TV no longer screen the show but without blowing my own trumpet I think I can safely say that I am the number one authority on Alien Nation."
The show itself centres around a race of aliens who have crash landed on Earth and must integrate into society, and not only does Chambers know all about it – he has actually appeared on it!
He said:
"I have become friendly with the props manager and I went and toured the set whilst on holiday one year, which ended up in me appearing as an extra. It was like all my Christmases and birthdays in one."
The Alien Nation Appreciation Society has attracted members from all over the world including Brazilians, Americans and some from Slovenia.
The museum is open by appointment to fellow enthusiasts. Details can be obtained from the website: