[25 MAY 00] HERBERT ART GALLERY & MUSEUM NEWS
People Keep Going To Home Front Display

An exhibition detailing the lives of Coventry people in the Home Front has proved so popular that it has been extended until the end of the year.

More than 30,000 people have already visited the Go To It! Working for Victory at the Herbert Art Gallery since it was formally opened by the Queen in March.

The exhibition has been organised by the museum with the Imperial War Museum to remember the contribution people made to the war effort in England between 1939 and 1945.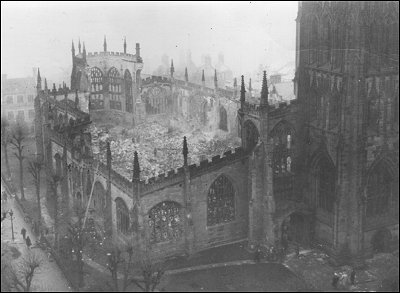 COVENTRY CATHERDAL SMOULDERING AFTER IT WAS BOMBED IN THE WAR
Rooms from houses have been re-created, and an air raid shelter has been built.
There are also excerpts of Coventry people's recollections of their time in the city when it suffered heavy bombing and was the first city in the country to be blitzed.
The audio extracts are available for use on touch-screen computers as part of the Oral History project.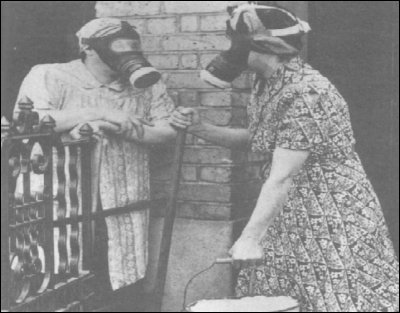 LIFE ON THE HOME FRONT
The experiences of ordinary people are being recorded as part of a scheme to preserve memories of city life.
Councillor Mrs Joan Wright, Cabinet Member for Leisure and Cultural Development praised the decision to extend the exhibition.
She said:
"I am thrilled that the Herbert Art Gallery and Museum are able to host such an exclusive exhibition which has been well attended.

"The exhibition is a marvellous tribute to everyone who worked on the Home Front during the War.

"It deals with rationing, blackouts, air raids and working on wartime production.

"We also wanted people to remember the lighter moments and have arranged a full programme of tea dances with music from John Spencer's dance band.

"We hope that everyone takes time out to come and remember this part of Coventry's fascinating history."
Admission to the Herbert Art Gallery and Museum and the future tea dances is free. For more details please telephone 024 7683 2386. Minicom 024 7683 2340.