[06 OCT 99] MUSEUM OF BRITISH ROAD TRANSPORT NEWS
Motor Museum Roars Ahead With Free Admission

The decision not to charge for admission has hoisted Coventry's Museum of British Road Transport into the top two per cent of museums in the country.

Attendances have rocketed by over 100 per cent and the city council is so pleased it has extended free admission to the year 2002.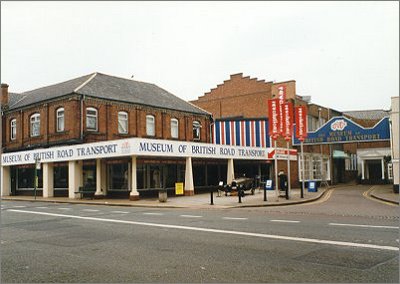 MUSUEM OF BRITISH ROAD TRANSPORT, HALES STREET, COVENTRY

Museum curator Barry Littlewood says:
"The admission charge was first lifted in March 1998 and in the first twelve months our attendances totalled 163,000 compared to the average of 64,000.

"We have forecast a figure of 125,000 for this second twelve months but we could beat that."
The increased number of visitors to the Hales Street premises has brought the museum 'designated status' installing it as one of the top 43 establishments 'of national importance'.
Now the museum wants to break free of city council control and operate under a grant system in the same manner as The Belgrade Theatre 500 yards away.
"We want to become an independent trust," says Mr Littlewood. "That way we would have to operate tightly within a grant from the city council and we are confident we can do that.

"It has been calculated that the local economy benefits by £3 million just by the museum being here. There are other contributions which do not bring commercial benefits but which inject an enormous amount into community life.

"We supply vehicles for local businesses, carnivals and public relations purposes and a huge range of other things which help to support the social fabric of this great city."
Mr Littlewood has long term aspirations for the museum, which will have a sparkling new entrance onto the planned new Millennium Boulevard.
"We have a long term strategy," he explains. "We want to be more hard-nosed about what items we accept for the museum and we want to tell the great success stories of transport in Coventry.

"I travel all over and I can tell you this city is better than a lot of people give it credit for. We have a lot to offer here.

"What Coventry does today the rest of the world does tomorrow. The Government is already intent on bringing back free admission in the great museums of London on the principle of access for all."