[03 AUG 00] MUSEUM OF BRITISH ROAD TRANSPORT NEWS
Daimlers To Chug Together Again

There will be an emotional reunion between two Coventry siblings this weekend when two buses get back together for the first time in more than 30 years.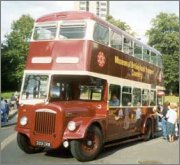 Enthusiasts from all over the country are expected to flock to the Aston Manor Museum in Birmingham to get a glimpse of the rare sight.
One of the buses, Fleet No 333 was the last rear entry bus in service in Coventry.
The Daimler was given to the Museum of British Road Transport in Hales Street when it opened in 1980 and appeared at last year's Heritage Open Days weekend.
And following lengthy restoration work in Birmingham, Fleet No 334 will make its first public appearance for years to join its relation.
They will form part of the display features buses from every decade from the 1920s to the 1990s.
Coventry buses are generally hard to come by, and museum spokeswoman Lucy Watkins said that it was very rare for buses with consecutive numbers to be seen together.
She said:
"There are a lot of people who will be very excited to see this. We've already has some people come to record the sound of the engine."
The Coventry bus will be driven to Birmingham by members of the Friends of the Museum of British Road Transport.
The event is being held to mark the centenary of the motorised bus in Britain on Saturday from 11am.
A vintage bus will take people from Birmingham City Centre to the Aston Manor Museum and also on to Aston Manor.
The free service will run from bus stop HH in the city centre.
More details about the event on 0121 322 2298.