[10 NOV 00] MUSEUM OF BRITISH ROAD TRANSPORT NEWS
Museum Has Designs On Car Style Show

A look at the past, present and future of car design and styling is being developed in a new gallery at the Museum of British Road Transport.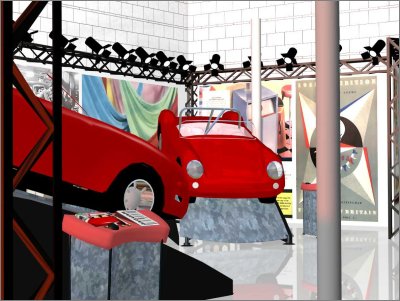 HOW THE NEW GALLERY WILL LOOK
Visitors to the new gallery, called 'Icons: Cars and Design from the 1930s to the future', will be able to have a go at designing their own car.
Students from Coventry University's Automotive Design Degree course have been involved with getting the display together, which will open in January.
Museum curators hope to continue the lively interactive approach taken in the Boomtown Boomtime exhibition, which opened earlier this year.
The gallery will show car design and how it relates to other designed objects. Visitors will be able to vote for their favourite examples and see past and future designs.

ANOTHER VIEW OF THE NEW GALLERY
People visiting will be encouraged to think about why cars look different from each other and what attracts people to them. Visitors will also be able to see examples of past and future designs.
The work, which began this week, has been made possible because of the museum's growing status. Being designated as a nationally-important collection opens up new sources of funding to museum in Hale Street.
Curator Steve Bagley said:
"Everybody at the museum is looking forward to opening this gallery. We have been talking to visitors a lot over the last few years and they have told us that this is the sort of thing that they would like to see.

"The new gallery displays some of our most striking cars and will give visitors an opportunity to think about car design while also having fun."
Cllr Joan Wright, cabinet member (Leisure and Cultural Services) said:
"I am delighted to see yet another exciting new development at the transport museum.

"The museum is committed to developing innovative new displays that will capture visitors' imagination and I am sure that this new gallery will prove to be just as popular as the very successful Boomtown Boomtime exhibition.

"I am really looking forward to seeing the completed project after Christmas."
Most of the work is being carried out off site so that disruption is kept to an absolute minimum, and visitors will still be able to see popular displays such as Boomtown, Thrust 2 and the Blitz Experience.
The new gallery is planned to open to the public on 9 January 2001