[10 JAN 01] MUSEUM OF BRITISH ROAD TRANSPORT NEWS
Curves Aplenty As Icons Take Centre Stage

Icons from the history of car design have gone on show in a new exhibition at the Museum of British Road Transport in Coventry.

The way in which ideas for new cars are developed, tested and put into production are all on show at the display in Hale Street.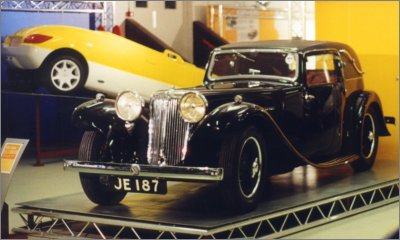 CARS IN THE NEW EXHIBITION: A 1991 CONCEPT CAR CALLED 'HOT DOG' AND A 1933 SS1
Visitors can get a glimpse of the though process behind some of the most famously-styled cars of recent years, with carbon fibre versions of the Jaguar XK8 and S-Type.
At first glance both seem to be identical to the cars that are sold in the showroom. But close inspection reveals that they are a slightly different shape from the finished product.
The permanent exhibition has grouped together different sorts of cars, such as touring cars, and shows how ideas in car design have developed through the ages.
A Jaguar E-type steals the show on a rotating pedestal.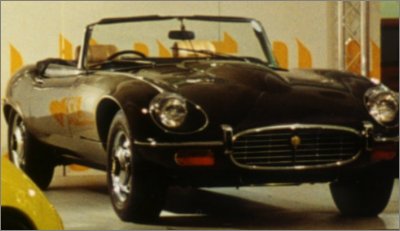 THE JAGUAR E-TYPE
There is the chance for people to design their own vehicle using computers and magnetic strips.
Everyday items from similar periods to some of the cars have also brought in to try and encourage people to think of the way that everything around has gone through a similar process.
Museum curator Steve Bagley said the aim had been to open up and brighten up the area.
He said:
"Before it looked like a car park and there were chains preventing people from getting close to the cars. It was much more formal.

"In here we have broken it up and improved the lighting.

"We've contextualised it so it's as much about social history as about cars."
Money for the exhibition, which was opened by the Lord Mayor llr Sheila Collins, became available after the museum was designated as one of the most important collections in the country.
And it doesn't just look at the past, with an area being dedicated to images of the future by automotive design students from Coventry University's renowned course.
Drawings, clay models and final project pieces are all on show in an exhibition space that is bigger and more public than anything the university can offer its students.
Principal lecturer John Owen said the models would be changed each time a course ended, with the best from that intake seeing their ideas going on display.
He said it would be an extra incentive to the students and would help showcase the talent at the university.
He said:
"The course has been going for 20 years now and we are starting to get some of our people in as studio directors.

"A lot of the car companies come to our end of year show to see if they can sign anyone up, but this display space will help raise the profile of the department further.

"We have got much better facilities since moving to the old Odeon, and it is helping the students produce better work."