[28 FEB 01] MUSEUM OF BRITISH ROAD TRANSPORT NEWS
Scrap Lures Visitors To Museum

Coventry's Museum of British Road transport is celebrating one of its busiest February half terms ever, attracting nearly 5,000 visitors.

Events including a race to build a car out of rubbish helped bring children into the museum in Hale Street throughout the week.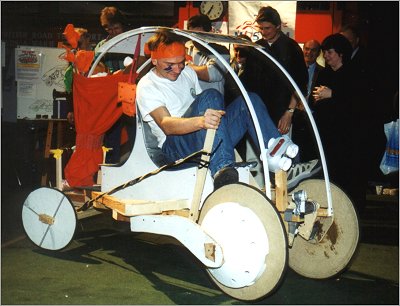 THE WINNING DESIGN BY POST-GRADUATES FROM COVENTRY UNIVERSITY
More than 1,000 people came to see the teams battle it out in the Scrapheap Challenge-style event.
The winners of the TV series, the Megalomaniacs, from Nuneaton, were on hand to judge. A team of post-graduates from Coventry University won, and the event attracted television coverage.
About 2,000 children visited the museum during the week to take part in a range of activities including building models from scrap and face painting.
And museum staff said they were thrilled that so many of the visitors had already been to see the collection before.
Development officer Lucy Rumble said:
"We are particularly delighted the so many of last week's visitors had been to the museum before.

"We put a lot of effort into talking to our visitors to find out what they want from the museum and the fact that they keep coming back shows that we are creating the type of museum they want.

"The ongoing work on displays means that there are always new things to see.

"Last week's visitors were enthralled with our new Icons gallery, and next week a re going to start further consultation on it to support our exciting new developments."