[17 JUL 00] COVENTRY WATCH MUSEUM PROJECT NEWS
Watch Appeal Gathers Pace With Plaques

Plaques marking key points in Coventry's watch-making history are to be unveiled at significant buildings in the part of the city where the craftsmen worked.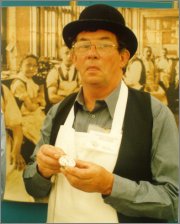 The trade, which was a key industry in the city in the 19th century, was largely based in the Chapelfields area in "top-shops".
These were houses with large windows on the top storey to allow
Ten plaques have been made to remind people of the rich history of the area. They will be unveiled in streets around Craven Street and Allesley Old Road.
Members of the Coventry Watch Museum Project, who work to keep the history of the area alive, are hoping to secure funding to make another ten plaques to make a heritage trail in Chapelfields.
They are also making good progress in their quest to raise £35,000 to open a museum.
A temporary exhibition in the Lower Precinct proved a big hit, with visitors able to learn about the way watches were made and the characters that sealed Coventry's reputation.
Members of the project decided that the exhibition, which currently only appears at fetes and festival, needed a permanent home.
Since launching their appeal last month, they have raised £10,000 to buy and convert a building in the watch-making quarter.
Secretary Peter Naul, pictured above at the appeal's launch at last month's Godiva Festival, said a local charity, which wishes to remain anonymous, had donated £5,000.
And members of the public were also coming forward with contributions.
Mr Naul said:
"We had someone come to us at the Chapelfields Festival at the weekend and give us a cheque for £60. We only need another 500 of those and we'll reach our target!

"The HSBC bank have agreed that people can pay donations in at any branch and we are very grateful for that for that."
Mr Naul said the aim was to raise the money as quickly as possible in case the building that the project members were interested no longer became available.
The main fund-raising effort is being made by selling a video of the history of the watch-making industry.
The video is available in formats that will work in both Britain and America. Details are available from Mr Naul by writing to:
The Secretary, Coventry Watch Museum Project Limited
PO Box 1714, Coventry CV3 6ZS
or by emailing 100624.1127@compuserve.com