[22 MAR 01] COVENTRY WATCH MUSEUM PROJECT NEWS
Watchmakers Oppose Demolition Plans

Coventry's watchmakers have added their voices to a chorus of opposition at plans to demolish a Victorian terrace to make way for a bus scheme.

Members of the Coventry Watch Museum Project Limited have backed a campaign organised by residents and businesses against the scheme that is being proposed by Coventry City Council.

The group, which is raising money for a museum dedicated to the industry based in Chapelfields during the 19th century, says Stanley Terrace should be renovated and not bulldozed.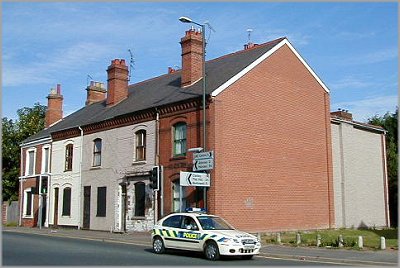 STANLEY TERRACE: RENOVATE OR DEMOLISH IT?
A statement issued today by the group said:
"We wholeheartedly support the efforts by the residents and local groups, to save this Victorian terrace, which is an important part of our watchmaking heritage.

"The road-widening scheme being proposed would have very little effect on the flow of traffic along the Allesley Old Road, and The Butts.

"We suspect that the ultimate aim is to widen the road from the Maudslay Public House all the way to The Butts, which would involve further demolition of houses and shops.
Stanley Terrace was used by the Coventry Co-operative Watch Manufacturing Society from about 1900 to 1918, as their workshops and offices.
The group added:
"The CCWMS was one of the original societies that helped to set up the Co-operative Union, and these buildings deserve a better fate.

"In 1999 we wrote to the city council about our concerns at the proposed demolition of Stanley Terrace, and their reply stated that they should be retained, on both historical and architectural grounds."

"In addition they do protect the environment of the adjacent Rivermead estate which would be exposed to heavy traffic pollution should the terrace be demolished.

"If the city council goes ahead with these proposals, they cannot claim that they have an interest in preserving Coventry's watchmaking heritage."
SEE [19 MAR 01] COMMUNITY GROUPS' SOS APPEAL FOR AREA