[23 OCT 99] MALT SHOVEL NEWS
Malt Shovel Undeterred By Arson Attack

A Coventry publican who was the victim of a £25,000 arson attack has pledged to rebuild his live music business.

Nigel Ashby and his wife Yasmina had established the Malt Shovel in Spon End as a popular music venue before arsonists destroyed the concert marquee behind the pub earlier this month.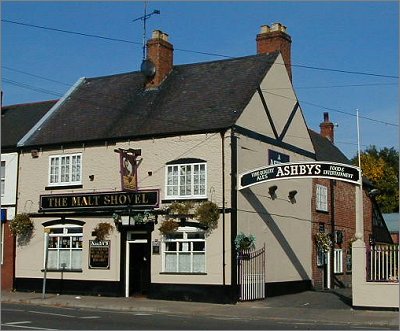 THE MALT SHOVEL, SPON END, COVENTRY
[Photograph taken by Chris Studman, 17 October 1999]

The criminals, who Ashby believes were determined to destroy his business, made a fire and threw gas canisters onto the flames.

The landlord, who owns the pub, is now offering a £1,000 reward for the capture and successful conviction of those responsible.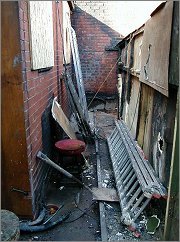 WHERE THE FIRE STARTED
AT THE MALT SHOVEL
He said:
"This was not the work of kids. I am convinced it was the work of people jealous at the success of the business.

"It has caused £25,000 worth of damage but it could have been even worse. A friend of mine went out to the toilets, came back and said he could smell burning. I went out, saw a red glow and immediately evacuated the pub.

"Whoever was responsible had even built a fire of combustible materials and then placed the gas canisters on top. The marquee and the toilet block were destroyed.

"It was an extremely dangerous thing to do. When I went out to investigate I heard the gas go up and it was very fortunate that no-one was hurt or even worse."
But now the Ashbys are fighting back and the venue, which has still been able to host duos and single artists since the fire, has won support from locals.
"This has really inspired the Blitz Spirit and everyone has rallied round. We will bounce back. We will, with planning permission, rebuild the marquee in fireproof material and there will be a state-of-the-art closed circuit television system with 31-day constant recording.

"This has knocked us back but we are determined to recover from it and I just hope these people are caught."