[10 MAR 99] TOURISM & LEISURE NEWS
LeisureWorld Only Six Months Away

The biggest entertainment complex ever to be built in Coventry is only six months away from being launched on the city's public with a huge extravaganza.

Chart-topping bands will launch the 4,000 seat Arena in October at the £40 million state-of-the-art LeisureWorld complex which will be operated by Rank Entertainment Ltd.

The Arena will be home to Coventry Crusaders basketball team and will also be an ice skating rink.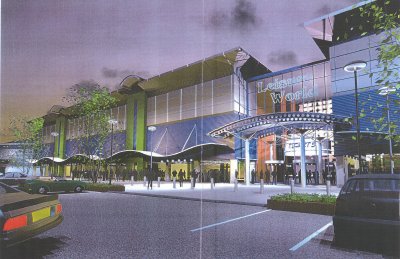 LEISUREWORLD

Tony Gibbons, operations director for Rank, said:
"We aim to open the arena by showing just how flexible it is. We are in the process of lining up some major acts and we shall also stage an ice-spectacular and basketball. Top bands and top stage acts will want to play Coventry because it is a new venue and they always want to open up new markets.

"The arena will be perfect too for West End productions such as Cats, Starlight Express and Phantom of the Opera. The Lloyd Webber Group and Cameron Mackintosh have already expressed interest.

"We will hire the Arena to anyone, providing we are happy that any proposed event meets our standards. It might be an ice hockey match or a dog show, boxing or kick-boxing or maybe a conference for Peugeot or Jaguar dealers. The Arena will also be suitable for single comedy acts such as Jasper Carrott or Steve Coogan, because when the stage is built the customer in the back row will be no further away than in an ordinary theatre."
Mr Gibbons said that the ice base would remain while other events were in progress.
"It would be too costly and take too long to melt the ice away, so we shall cover it with a specially designed cover from Finland. The basketball court would then be laid on top.

"It will take four to six hours to convert the Arena so that you could play an ice hockey match on Saturday, basketball on Sunday and stage a concert on Monday."
Alongside the Arena the LeisureWorld complex will house three sit-down restaurants, a nine screen cinema, a 1,900 capacity night-club 'Ikon' catering for 18-25 year olds and the 1,000 capacity night club 'Diva', specialising in main-stream music for the over-25s.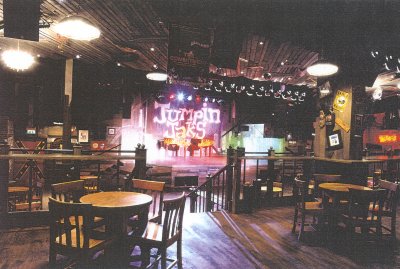 JUMPIN JAKS LIVE MUSIC VENUE, LEISUREWORLD

The Spon Street frontage will house a superior quality café-bar called 'Bonds' and there will be a speciality live-music venue called 'Jumpin Jaks'.
"We are installing top quality sound and lights in the night clubs. We operate 43 clubs around the country and we know what we are doing. We can promise a fantastic experience," said Mr Gibbons.