[31 AUG 99] SKYDOME COVENTRY PRESS RELEASE
Latin Dance For SkyDome

Latin fever is set to hit Coventry as the city becomes the home of the hottest dance craze in the country.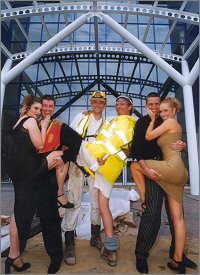 LEFT TO RIGHT: JENNIE YOUNG & PAUL RICKETTS (SENSATIONS), SHAUN MARSTON & JOHN JACOBS (ROOFERS AT SKYDOME), JO MACKIE & RICHARD COLLINS (SENSATIONS)
A Leamington dance company, Sensations, has reached agreement with Rank Entertainment to hold Salsa and Merengue classes at the new £40 million SkyDome Coventry entertainment complex.
Sensations are confident of attracting between 200 and 300 people – making the SkyDome sessions the most popular in the Midlands.
Richard Collins, a partner in the dance company, said:
"We approached SkyDome Coventry directly and they fully embraced the idea. We currently hold classes throughout Warwickshire but nothing on the scale of SkyDome.

"There has been an explosion of interest in Latin American music and dance recently. Ricky Martin's number one hit and now Ginger Spice Geri Halliwell's Latin American song have just sent it all through the roof.

"We hold a class to teach people the dances and then have a night of Latin American music to allow them to practice. We are confident that the sessions will capture the imagination and with the sound and light systems Rank has at SkyDome, it should be fairly spectacular."

Trevor Ellard, general manager of SkyDome Coventry, which includes a nine-screen cinema, two nightclubs, a live entertainment bar, café-bar and a 4,000-seat arena, said Latin American music had been growing in popularity throughout all Rank's nightclubs.
"It is a growing trend and is certainly very good to dance to. Sensations came to us with the idea and we liked it. We are going to run with it when we open in October.

"We will entertain any realistic ideas put to us. SkyDome Coventry is designed wholly for the people of the area and if they want something in particular then we take a very close look at it.

"Latin American dancing is also popular with all ages and that is something else we are keen to stress. SkyDome Coventry is for everyone."
MORE INFORMATION:
SkyDome Coventry Press Office 01203 633647