[14 JUN 00] SKYDOME COVENTRY NEWS
Trevor Nelson Returns To SkyDome

Coventry's entertainment scene has received a massive vote of confidence from one of the biggest names in the music industry.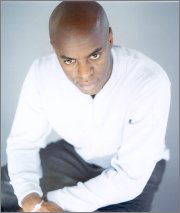 Radio 1 Rhythm and Blues icon Trevor Nelson is returning to the city's SkyDome complex just three months after performing there for the first time.
The MOBO award winning DJ proved a massive hit when he filled the 2,400 capacity Ikon and Diva clubs in late February, and is set to have the same impact on June 20th.
And the host of top radio show "Trevor Nelson's Rhythm Nation" believes that the £40 million complex rivals the top venues in the country from a performers point of view.
He said:
"When I was at Ikon Coventry in February the atmosphere was fantastic and it was a pleasure to play there.

"It is unusual for me to return to the same venue so quickly but when the opportunity arose I had no hesitation in agreeing to reappear there.

"If it is anything like last time then it should be a great night - I am looking forward to it."
Chart-sensation DJ DeeKline, who recorded top ten hit 'I don't smoke' and Mikee B of Radio One's DreemTeem will also be performing on the night.
The event will be promoted by Coventry-based Magnum Entertainments, and despite bringing other top acts to the clubs partner Stavros Poulos believes this will be the best yet.
He said:
"I think people are beginning to see that SkyDome has given us a platform to display the country's best, and most popular talent to the Coventry people.

"The clubs have a 2,400 capacity but Trevor Nelson's last appearance could have sold twice over so there is a real thirst for big names in the city.

"It is a great testament to Coventry and SkyDome that he has agreed to return so quickly - that has not happened at any other midlands venues."
Tickets for the event have already sold well and SkyDome general manager Ian Knight has urged anyone interested in going to purchase one well in advance.
He said:
"The event in February was an eye-opener for anyone who did not realise just how popular Trevor Nelson is - it was unbelievable.

"We are only too happy to welcome him back, the last time he was here created a great atmosphere.

"It can only be good for us and for the city as a whole to be associated with the best and most current performers around - that is what is now happening."
Tickets are priced at £10 + booking fee and can be purchased from the SkyDome Box Office or by calling 07760 270534.