[21 JUL 00] SKYDOME COVENTRY NEWS
Jason Donovan To Get Jaks Jumpin

Australian heart-throb Jason Donovan is set to appear in a one-off performance in Coventry next month.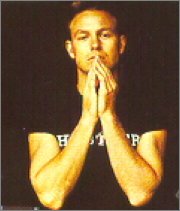 The former Neighbours star, one of the few to make it in the pop world, will be performing at SkyDome's 900-capacity Jumpin Jaks bar on Thursday 3 August.
After several years playing Scott Robinson in Neighbours, Donovan, who father Terence was also in the show, and on-screen wife Kylie Minogue decided to try their hand at singing.
In 1988 they released duet 'Especially For You' and rocked the industry by stealing the Christmas number one slot for that year.
Two years ago the track found itself vying for that position again, this time warbled by Johnny Vaughan and Denise Van Outen.
Both artists used that achievement as a launch pad for solo success - just two months later Donovan's 'Too Many Broken Hearts' put him back on top of the pile.
It was boom time for the household star whose album 'Ten Good Reasons' also topped the charts and left him receiving constant offers from film and television companies.
He continued to churn out hit singles whilst also starring in a string of screen and stage productions including ITV's war drama 'Heroes' and West End hit 'Joseph'.
Donovan's career then began to rock with health problems causing him to disappear from the music scene, and only recently has he begun to re-emerge.
Starring in the remake of the 'Rocky Horror Show' and a re-release of his greatest hits album have brought the Aussie back into the limelight - something Coventry revellers will be able to see for themselves.
SkyDome general manager Ian Knight secured the date for Donovan to come to Jaks and believes it is a coup for the complex.
He said:
"When you look at the phenomenal amount of records that he has sold, and is still selling, in his career you realise what a big name he is.

"At one stage he was the most written about music artist in the world so it will be great to see him on stage in Jaks.

"Normally he would perform in venues with far larger capacities but the reputation Jaks has gained for atmosphere is a great draw for artists.

"He will be performing all the hits and we are really looking forward to the event."