[04 SEP 00] SKYDOME COVENTRY NEWS
Cancer Cash Is Goal As Team Nets Deal

A Kenilworth-based football team is hoping to net hundreds of pounds for Walsgrave Hospital after striking a unique sponsorship deal.

The Ikon and Diva nightclubs at SkyDome Coventry will donate £10 to the hospital's Oncology Ward every time DJC Sporting score in the Prestige Citroen League this season.

The deal came after SkyDome bosses learned that Sporting was investigating ways to help out the cancer patients.

DJC Sporting takes its name from local businessman Dennis Clifford and was founded by his three sons after he died from cancer.

Mr Clifford, who owned a computer company and two hotels in Leamington Spa, was treated at Walsgrave Hospital and his family decided they wanted to give something back to the Oncology Ward.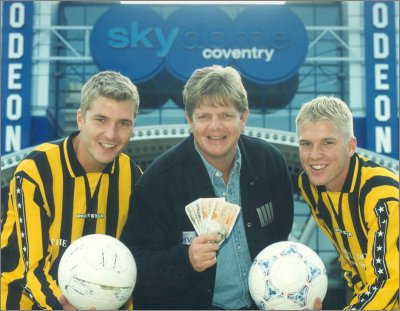 LEFT TO RIGHT: TIM CLIFFORD, IAN KNIGHT, JAMES CLIFFORD
SkyDome general manager Ian Knight came up with novel bonus scheme after meeting with team boss Tim Clifford and is now gearing up for the start of the season.
He said:
"We are always looking to support local causes, as we have with Snowball, and when we heard the history behind the team and that they were looking to back Walsgrave Hospital, SkyDome wanted to help.

"Last season they scored around 50 goals which would amount to £500 for the Oncology Ward.

"The season kicks off in early September and every time they score a league goal £10 will be put aside - hopefully at the end of the season there will be a substantial cheque winging its way to Walsgrave.

"Most of the lads from the side are regulars in the clubs so I am sure I will have weekly updates on how many times they have hit the net!"
Tim Clifford said he was delighted at the gesture by SkyDome and believes it will be great motivation for the team.
He said:
"We wanted to find a way to connect fund-raising to our football and this is a wonderful gesture by SkyDome.

"The whole team is made up of friends and family so everyone will get a great deal of satisfaction from knowing that their goals are being converted into pounds for Walsgrave.

"We are hoping to break the 50 goal barrier and secure over £500 for them, although I think we may have to stay out of Ikon for a while if we hammer anybody 10-nil!"
The team got off to a flying start yesterday, beating Tachbrook Social 2-1, getting £20 in the bank for the hospital in the first week of the season.
DJC Sporting play in division one of the Leamington-based Prestige Citroen Leamington and District Sunday League and is based at Kenilworth's Castle Farm sports ground.