[14 SEP 00] SKYDOME COVENTRY NEWS
New Broom To Beat A Different Tune At SkyDome

The Skydome Arena has a new man at the helm after a reshuffle by its owners to bring more music to the Coventry venue.

Malcolm Bumford takes over the top job at the £7 million complex after 10 months as ice rink and merchandise manager.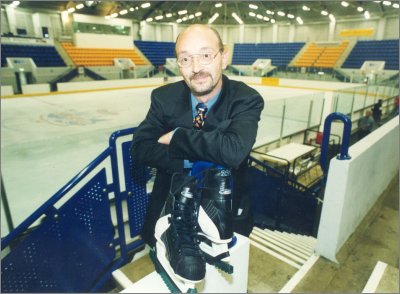 MALCOLM BUMFORD IS NOW IN CHARGE
His promotion follows a management re-organisation designed to bring more music-based events to the Planet Ice arena, followings basketball, ice-hockey and boxing events.
He said:
"I am delighted to have landed the job and there is a very bright future ahead for the arena.

"The sporting events we have staged have all done well, we have announced an Abba tribute night and a UCW wrestling event which have both prompted a great number of inquiries.

"I have been a part of the team since the day the arena opened and know every aspect of it very well.

"The arena is not only a building which holds top national events but it will also attract people and therefore business from across the region and further afield."
Malcolm was recruited by Derby County Football Club as General Manager - Hospitality and Catering when they built their ground- breaking Pride Park development.
That followed 12 years in a similar role at the NEC Arena and the NIA where he ensured things ran smoothly at events ranging from Gladiators to The Lord Of The Dance and concerts as diverse as Pavarotti and Kylie Minogue.
His experience in dealing with the unusual requirements of customers means that nothing is too much trouble for him.
He said:
"One of the events I oversaw at the NIA was the World Badminton Championships, feeding over 1,000 contestants from 40 different countries for 14 consecutive days."