[11 OCT 00] SKYDOME COVENTRY NEWS
O'Donnell To Sing On St Patrick's Day

Irish singing legend Daniel O'Donnell is to play at the Coventry Skydome on St Partrick's Day, it has been revealed.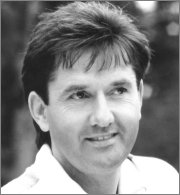 It is the first big name to be booked for the 4,000-seater venue since new management pledged to put more music on.
The popular singer can easily fill far bigger venues, and his appearance on17 March next year will be a major coup for the arena.
Rod Gunner of TBL, the company charged with bringing events to Skydome Arena, believes the singer will create an atmosphere never experienced in Coventry before.
He said:
"To get Daniel O' Donnell to perform in the city is wonderful given his immense world popularity - to get him here on St Patrick's night is unbelievable.

"There is a large Irish population in Coventry and the St Patrick's Day celebrations here are always amongst the best in the country - this concert will be the icing on the cake.

"When we showed Daniel's management the quality of the Skydome Arena they immediately wanted him to appear here."
O' Donnell, aged 39, who will be supported by award winning country singer Mary Duff, has enjoyed a string of successes since hitting the limelight with hometown song 'My Donegal Shore'.
His crossover appeal has meant that he has become one of the few country singers to achieve success in the pop charts, including 14 top 10 singles, 11 top 40 albums and 11 top videos, with CD and video sales fast approaching the five million mark.
Voted Ireland's Entertainment Personality of the Year on three successive occasions, he is alongside Guinness and U2 at the top of the Republic's finest export list.
The Donegal singer was recently handed the ultimate accolade when he was given 'the big red book' by Michael Aspel on This Is Your Life - a show which shot into seventh place in the Radio Times Top Ten Chart.
Excited at the prospect of appearing in Coventry for the first time, Daniel admits he cannot wait for the date to come around.
He said:
"I have always wanted to sing in Coventry and I was delighted when I heard that a major new venue was being constructed.

"St Patrick's Day is a very special occasion and the atmosphere should be magical, I am really looking forward to it.

"I have been told that I have a big following in the city and its surrounding area and it will be great to sing for those people."
The concert follows the release this week of O'Donnell's latest album "Faith & Inspiration" which includes traditional favourites such as Abide With Me and Let There Be Peace mixed with newer tracks.
Recorded at the Temple Theatre Dublin backed by a sixty-piece orchestra and an awe-inspiring choir, it has been described as a "masterpiece" gospel album.
Duff, who is O'Donnell's regular touring partner, has been voted Top Irish Female Vocalist and won the Best Female Vocalist award at the British Country Music Awards.
Tickets for the show will go on sale at the Skydome box office on November 11 - further details will be announced soon.