[16 OCT 00] SKYDOME COVENTRY NEWS
Damage At SkyDome As Trevor Nelson Returns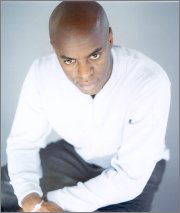 Radio One DJ Trevor Nelson(right) is visiting Coventry's SkyDome tomorrow along with British five-piece r 'n b group Damage – and Baby Spice Emma Bunton could also be in the house.
They will be performing fresh from their success at the recent Music Of Black Origin Awards.
Nelson, who hosted the event, is returning to the Coventry nightspot after receiving a massive response on previous visits.
Also appearing will be Damage, who performed live at the MOBO Awards, which were watched by millions around the globe.
It is possible that Spice Girl Emma Bunton will be at the event, as she often accompanies boyfriend Jade Jones who stars in the hit group.
The event is organised by Coventry-based Cosmic Entertainments Ltd and partner Stavros Poulos believes the gig has come at an ideal time for SkyDome.
He said:
"Trevor Nelson and Damage are both massive at the moment especially because of the praise they received for their respective MOBO appearances.

"People will have been clamouring to get them involved with things after that but thankfully we had already agreed to bring them to Coventry."
SkyDome general manager Ian Knight is ready for another packed house after witnessing the success of Nelson on previous visits.
He said:
"The layout of the clubs is perfect for big name artists and Trevor Nelson certainly qualifies as that because he has easily filled the venue in the past.

"The fact that Magnum have added Damage to the bill will just heighten that and I would urge early arrival because there is little doubt it will be a sell-out."
Entry on the door will be £15, but tickets can still be reserved on 07980 111370.