[18 OCT 00] SKYDOME COVENTRY NEWS
SkyDome Gets Ready For Birthday Party

Eighties pop group Bucks Fizz will be among the host of celebrities coming to Coventry later this month to help the SkyDome complex mark its first birthday.

Many famous faces who have appeared at the club during the first year will be coming back for the bash on 30 October.

A VIP party is being held at Ikon, Diva and Bonds, while there will be a week of entertainment at Jumpin Jaks in the run-up to the big day.

And people who were born under the same star sign as the complex – Scorpio - can apply for tickets to join the exclusive party.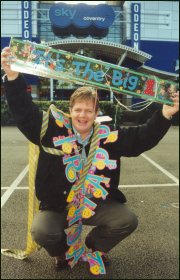 Manager Ian Knight said:
"The first 20 people who come to the box office with some proof of date of birth showing that they share a star sign with the clubs - meaning born between 24 October and 22 November - will be given two VIP invites.

"Obviously because of the nature of the party this will have to be on a first come first served basis subject to availability.

"The night will be a great celebration and I would not like to think that people were having to toast their big day somewhere else."
Stars from Eastenders and Brookside are expected to come along to the party, and snooker legend Jimmy White and ex Coventry City player Robbie Keane will also be invited.
Manager Ian Knight came up with the idea of holding the party as a thank-you to some of the people who have helped make the complex such a success.
A ballot box will being going on reception at the venue for three days from tomorrow to enable other clubbers to put their names down for tickets to the party.
Fifty people who enter their name and their telephone number will be plucked at random and will be allowed to come to the party with a guest.
Bucks Fizz will be returning to Jumpin Jaks following the success of their first visit. In the last 12 months they have appeared along with other blasts from the past such as Jason Donovan, Brotherhood of Man and Black Lace.
Bucks Fizz will be playing their hits such as Eurovision winner 'Making Your Mind Up' and 'Land Of Make Believe'.
Jaks manager Andrew Macleod said the group, which still has one original member, are as popular as ever:
"The response they get around the country is phenomenal and they always create a great atmosphere.

"When they came to Coventry earlier this year our customers loved it - it was the best response we have had for an act.

"That is the reason we have asked them back as the showpiece of our birthday celebrations, Jaks is referred to as the ultimate party venue and they are the ultimate party band."
Other events during the week-long celebration include a £500 winner-takes-all karaoke grand final, with all winners from weekly heats invited back to battle it out.