[03 NOV 00] SKYDOME COVENTRY NEWS
Martine To Wow The Crowds At Jaks

Coventry party-goers are to be given a 'Perfect Moment' when Martine McCutcheon plays at Jumpin Jaks bar at the SkyDome complex.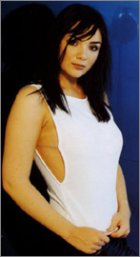 The former EastEnders actress, whose fame has rocketed since leaving the hit soap in 1998, will be the biggest current act to perform in Jumpin Jaks when she appears on Thursday 23 November.
The death of her EastEnders character Tiffany was watched by 22 million viewers and she quickly shot to fame in the music world with number one hit 'Perfect Moment'.
Since recording her debut album 'You Me and Us', which enjoyed double platinum success, McCutcheon has taken a break from the limelight to work on new material.
She rocketed back to chart success this week with her new single 'I'm Over You' which was only kept off the top spot by the Spice Girls' ninth number one.
Martine said:
"I was away for a year working on new material but it is really exciting to be in the thick of things again.

"Jumpin Jaks creates a party atmosphere and has a reputation as a really fun places to perform.

"It will be the first time I have ever appeared in Coventry which is great because I know I have a lot of support from that area."
Jumpin Jaks manager Andrew MacLeod believes the announcement of McCutcheon's appearance is a great coup for the city.
He said:
"Martine is one of the most sought after performers in the music industry and we are very proud that she wants to appear at Jaks.

"Obviously Martine has showed before that she can fill far bigger venues than ours but it is the atmosphere that artists of her calibre are most interested in and I am delighted to say that our reputation for that is second to none.

"The amount of requests we get to play her songs in Jaks is immense, I can't imagine what the reaction will be when they are performed live."