[10 NOV 00] SKYDOME COVENTRY NEWS
Daniel O'Donnell Fans Can Queue In Comfort

Potty Daniel O'Donnell fans won't be caught short when the queue for tickets starts tonight as a portable loo has been installed outside Coventry's Skydome arena.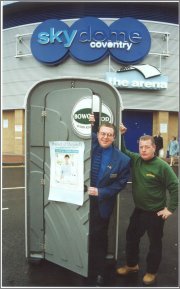 The Irish singing legend has been booked to play at the venue on St Patrick's Day and demand for tickets is expected to be immense.
Bosses have taken special steps to ensure that Daniel O'Donnell's army of fans don't see their chances of getting a ticket for his concert go down the pan by being caught short at the vital moment.
Hundreds of avid followers of the Donegal legend are expected to queue outside the £7 million Arena from the early hours of Saturday morning in order to secure seats when they go on sale at 8am.
To keep them comfortable a portable loo has been installed outside the box office for people waiting for the tickets for the gig on 17 March next year.
Michael Petrouis, managing director of arena owner Planet Ice, said that the response to O'Donnell had been incredible.
He said:
"We knew Daniel O'Donnell was a massive name to bring to Coventry but we have already had people saying that they are planning to queue from Friday night for tickets.
"Obviously this system is the fairest way to distribute the tickets but we want to make people who are waiting patiently as comfortable as possible."
The box office opens at 8am for personal callers and the ticket hotline - 08700 119119 - is operational from 10am.
Pictured are Luke Riddell of the Skydome Arena box office and Stephen Lunn of Bowood Event Hire.