[16 NOV 00] SKYDOME COVENTRY NEWS
Slam Dunkers To Sleep With Village People

Stars from the England basketball side have been eying up a good place to hit the sack when they come to Coventry later this month.

They have been checking out the length of the beds at the Village Hotel in Canley to make sure they measure up to the correct standard.

England's basketball team have declared Coventry's Skydome Arena as their new home and will play two internationals there on 25 and 29 November against the Slovak Republic and Latvia.

All three sides are staying at the hotel and members of the England set-up stopped off recently to check on facilities.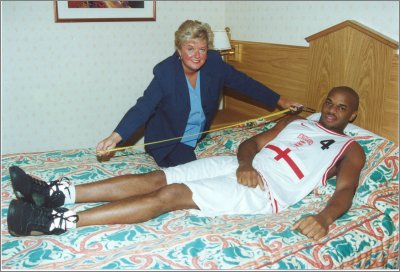 JUNE MEASURES UP JULIUS JOSEPH FOR THE BIG NIGHT
One of the key things on the agenda was the size of the beds as several of the players in the tournament are close to 7ft tall.
Village sales manager June Picken revealed that the hotel was delighted that the squads had chosen to stay there and admitted that the flying visit had been a useful exercise.
She said:
"Julius Joseph, one of the England stars, had come down to Coventry with the England basketball management so we were able to have a test run - thankfully he fitted!

"It is great that we are able to offer good enough facilities to persuade international athletes to stay at the hotel because previously they would have gone further away from the city.
Manchester Giants ace Joseph, aged 27, said that the team were impressed to have facilities so close to the venue.
He said:
"These are two absolutely crucial games for English basketball and we are going to be spending a lot of time at Skydome with training and playing.

"The Village is perfect for our needs and hopefully by the night of the 29th we will be holding a party there to celebrate back-to-back victories in the city."
Ticket for the matches are available on 08700 119119.