[20 NOV 00] SKYDOME COVENTRY PRESS RELEASE
Ikon Shows Off Its New Stars

One of the leisure industry's leading young talents has joined the management team at Coventry's SkyDome entertainment complex.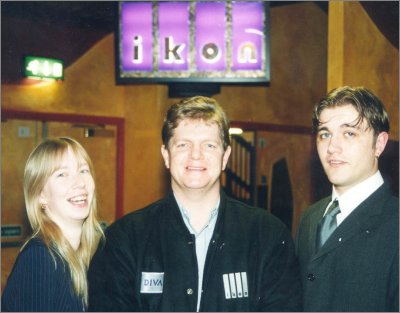 JO GORDON, IAN HARRIS, AND AARON HOLLIS, ALL OF THE SKYDOME
Jo Gordon, aged 22, has been handed the assistant manager role at the Ikon, Diva and Bonds venues after earning glowing praise in previous positions.
SkyDome manager Ian Knight revealed that he had been inundated with applications for the post but was delighted to have secured Jo's services.
He said:
"There are well over 200 outlets in the Luminar Leisure chain but our Coventry operation is seen as the national flagship, so obviously we got a massive response for this post.

"I received hundreds of applications but Jo has become well known for her professionalism and has already worked within the group for four years.

"Everybody within Luminar has identified the potential she has and we are delighted that she will be working at SkyDome.

"We have always set out to appoint the best possible staff right through from DJ's to glass collectors and this is a clear sign that we are still aiming for that quality."
Although Jo has already worked in several large clubs around the country she said the opportunity to join SkyDome was too good to refuse.
"Wherever you work within the group people are always talking about SkyDome and the tremendous success it has achieved.

"When I was offered the post I didn't have to think twice because it gives me the opportunity to work in a top venue with a very experienced manager which can only be good for my future."
Coventry kid Aaron Hollis is also celebrating after being told that he has been promoted from trainee manager.
Hollis, aged 21, from Cheylesmore has worked at Ikon, Diva and Bonds since the complex opened in October 1999.
He said:
"I am delighted to have been promoted. I have been here since day one when I was a barman but I was always told that there was the opportunity to progress and SkyDome have honoured that.

"The complex has had a massive impact on entertainment in the city and coming from Coventry it is great to have been involved.

"I have ambitions to progress up the ladder and I have been very fortunate to work with people here who are amongst the most respected in the country at their given roles."