[21 NOV 00] SKYDOME COVENTRY NEWS
Exhausted Martine Pulls Out Of City Gig

Former EastEnders star Martine McCutcheon has cancelled a visit to a Coventry nightspot after suffering a recurrence of exhaustion.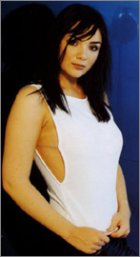 The singer was due to appear at Jumpin Jaks on Thursday but her management has said that illness will prevent her from attending.
Martine, aged 23, missed a string of commitments last month when she was laid low with the same problem but seemed to have recovered.
Jumpin Jaks' manager Andrew MacLeod admitted he was 'hugely disappointed' to hear the news and apologised to customers eagerly awaiting her performance.
He said:
"We always make an effort to book big name acts and Martine certainly fits into that category.

"Obviously all the necessary contracts were signed and we were looking forward to bringing such a popular character to Coventry.

"I am sure people who were planning to come are as bitterly disappointed as we are - she is a chart topping act and would have provided a great night out.

"However, I am sure that nobody would want to see someone risking their health and if Martine is suffering from exhaustion then she has no choice but to rest.

"We wish Martine all the best in her recovery and hope to rebook her at some stage in the future when she is back to full health."
Anyone who has purchased tickets for the event can gain a full refund by taking their ticket into the Jumpin Jaks box office at the SkyDome complex.
Mr MacLeod added:
"We would like to take this opportunity to sincerely apologise to the people who were looking forward to this event - unfortunately circumstances were beyond our control."