[28 NOV 00] SKYDOME COVENTRY NEWS
Huggy Bear Pays Surprise Visit To Coventry

Managers and customers at a Coventry nightspot were stunned when Starsky and Hutch star Huggy Bear dropped in for a drink.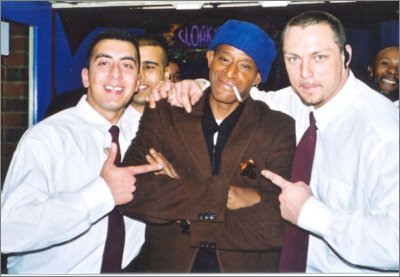 ANTONIO FARGAS WITH DOORSTAFF AT THE CLUB
Antonio Fargas, the man who brought the flamboyant informant to life in the 70's cult show, had been working at Birmingham's Alexandra Theatre and decided to have a night out at SkyDome.
Eagle-eyed clubbers soon began asking for his autograph after recognising him as the owner of Pitt's Bar in the American cop show which is currently being re-run on satellite TV.
SkyDome manager Ian Knight admitted he thought doorstaff were joking when they told him the 53-year-old actor was in Ikon Superclub.
He said:
"We do get a lot of well known people coming to Ikon and Diva to relax but I certainly didn't expect Huggy Bear, I haven't seen his face since the show finished in 1979!

"It was unbelievable how many of the customers recognised him from the series and he happily signed autographs and posed for pictures."