[21 DEC 00] SKYDOME COVENTRY NEWS
Drunken Clubbers Help Sally Army

Drunken clubbers who forget to take their coats home will be helping keep the homeless keep warm this Christmas after a Coventry nightspot teamed up with the Salvation Army.

Bosses at the SkyDome complex in Croft Road decided to take action after hearing that the Salvation Army was gearing up to cater for larger numbers than ever over the festive period.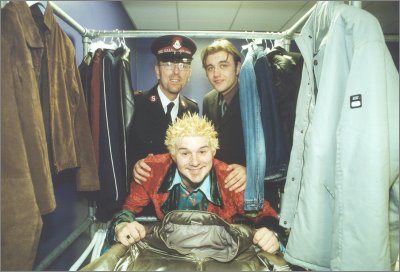 Picture: front, CJ (Jumpin Jaks entertainment manager) Major Brian Slinn (Salvation Army) and Aaron Hollis (assistant manager Ikon/Diva/Bonds)
Managers of Ikon and Diva nightclubs along with Jumpin Jaks live entertainment bar will visit the group's Upper Well Street shelter when their doors close at 12am on Christmas morning.
And they will take with them around 200 coats which have gone unclaimed after being left in the clubs' cloakrooms for over six months.
Ikon, Diva and Bonds manager Ian Knight is hoping the shelter can distribute the coats to people who visit them over Christmas.
He said:
"The Salvation Army's Upper Well Street premises is open for four full days over the holiday period giving meals and refuge to the homeless, but we have been told that a lot of people eat and then go back onto the streets.

"Now at least they will have the chance of getting their hands on something to keep them warm.

"On Christmas Eve we are holding a huge party at the complex with free admission to all outlets and are expecting to attract over 3,000 party goers.

"When you are organising an event like that it is easy to forget that not everyone is having such a great time at Christmas and hopefully this will make some difference."
Jumpin Jaks manager Andrew MacLeod revealed that anyone who has left a coat at SkyDome for over six months will have until Friday 22nd December to claim it.
He said:
"If people think they have left a coat here then they can still come and claim it - although we will be asking them to make a donation to the Salvation Army in lieu of us looking after it.

"We felt it was only fitting that on a night which will be one of the most festive and fun of the year at SkyDome, the complex should try and spread its Christmas cheer a bit further."
Major Brian Slinn, who runs the Upper Well Street hostel, said the gesture was hugely appreciated.
"It is pleasing that they have thought of this and the coats will be put to very good use, it is a gesture that is in the true spirit of Christmas.

"We have capacity to accommodate 120 people over Christmas and we expect quite a few to come in for meals but not to stay.

"We also have the 'Grub and Gab club' each Saturday which caters for 40 to 50 people so it will not take long to distribute the coats to needy causes."