[08 FEB 01] SKYDOME COVENTRY NEWS
Full Monty Flesh Fest To Entice Club Lovers

Dancers will be strutting their stuff all in the name of love when they take their hats off and do the Full Monty at a Coventry nightspot next week.

And more worried about their form than formation they have recruited the help of a city leisure and health club to ensure their flesh is well-primed for its five minutes of fame under the spotlight.

The dancers at Jumpin Jaks are doing a strip as part of a week of celebrations around Valentine's Day.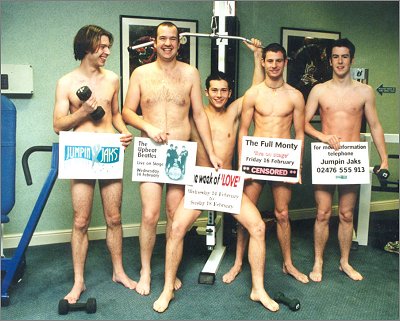 WORKING OUT FOR THE BIG MOMENT
Dave Edwards, Gary Nicholls, Karl Pearce, Peter Conroy, Ed Hudson (pictured left to right above) have been working out their moves for a month and are now applying the finishing touches to their physique and tan at the Village Hotel and Leisure Club in Dolomite Avenue, Canley.
Jaks manager Andrew MacLeod said:
"The dance routines in Jaks are always enjoyed by our customers, but we wanted to do something different during the Valentine's celebration and people kept asking for the Full Monty.

"The group agreed to do it and have been working with Emma on the moves - they were just a bit concerned that their pasty skin might dazzle a few party-goers!

"We are in regular contact with staff at The Village and when they heard what the lads were doing they offered to let them use the gym and tanning facilities, which we are very grateful for."
Crew member Karl Pearce, aged 21, admits that the move has lessened their nerves over the big night.
He said:
"We have got the film routine off to a tee, but I was more nervous about my physique than my dancing.

"It is all for fun and the customers in Jaks appreciate that we are normal staff who make an effort to entertain them.

"I am dreading the night, but I am sure it won't be as bad as I'm expecting it to be - that's not possible."
The act will be performed on Friday 16 February and Village sales manager June Picken believes there will be several of the hotel staff there.
She said:
"We were delighted to help them out - you have got to admire their bravery in the name of entertaining customers.

"They have chatted to quite a few of our staff and members whilst using the facilities and I am sure there will be a band of supporters from The Village there on the night.

"Hopefully being in better shape and having a bit of colour will help combat some of the nerves."