[01 MAR 01] SKYDOME COVENTRY NEWS
Wedding Bells Ring Out At City Nightclub

A Coventry entertainer has literally found Love in a city nightspot and his colleague will be 'banking' on him for life when they swap the stage for the altar after agreeing to marry.

Dave Barclay and Becky Love came to Coventry in 1999 to work at live entertainment bar Jumpin Jaks at the Skydome complex.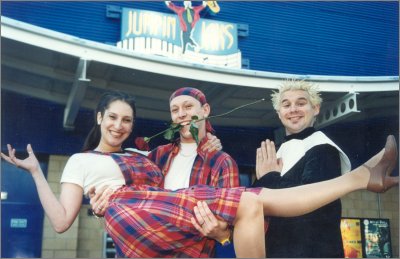 DAVE AND BECKY GET A 'BLESSING' FROM JAKS ENTERTAINMENT MANAGER CJ LEWINS
After working together organising and running the bar's many show and events over the last 18 months the couple are set to host a party of their own.
Dave proposed to Becky on stage with a full house at the 900-capacity venue and is delighted that Jaks customers will soon be entertained by a husband and wife team.
He said:
"Obviously myself and Becky had never met before we were asked to entertain the Coventry public but we have had great fun working together over the last year-and-a-half.

"I am sure quite a few people meet their future wives in Jaks but 'Do you come here often' was certainly not in our dialogue - the answer would have been every night.

"I felt that as the Jaks customers saw so much of us as a couple it was only fitting that they should see me ask Becky to marry me, it wasn't embarrassing although it could've been if she'd said no!"
The pair will tie the knot next summer and Jaks manager Andrew MacLeod is delighted they have settled in Coventry.
He said:
"There is a great on-stage rapport between Becky and Dave and Jaks party-goers regularly comment on how good they are.

"The whole Jaks ethos is to provide a fun and light hearted atmosphere and the pair of them are excellent at doing that.

"Most marriage proposals are tough but Dave's had a 900 strong audience captivated - that is a true sign of an entertainer."