[02 MAR 01] SKYDOME COVENTRY NEWS
Seventies Stars Kick Off Skydome Concerts

Coventry's Skydome Arena will be welcoming pop stars from the 1970s to kick a series of monthly concerts.

'Sound of Skydome' honours the Arena's pledge to bring top music names to Coventry and will kick-off with Smokie on Saturday 31 March and Elkie Brooks and Sunday 29 April.

Skydome promoter Rod Gunner believes 'Sound of Skydome' will fast become a monthly date for the diary.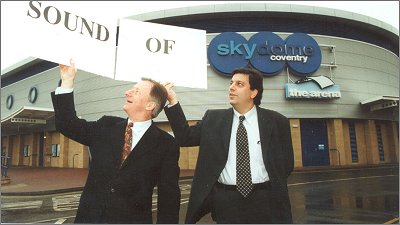 PROMOTER ROD GUNNER WITH ARENA OWNER MIKE PETROUIS
He said:
"Most of last year was spent fine tuning the operation of the Arena, we now feel with the new management structure in place that we can move forward in hosting top music events.

"Securing Daniel O'Donnell to appear on St Patrick's Day is a major coup for the city and we are confident it will prove a successful launch pad for the Sound of Skydome events.

"In Smokie and Elkie Brooks we are looking at two of the best live acts around. Smokie have not done a UK tour for 15 years but they have been selling out major venues in places like Scandanavia, South Africa, Germany and even China.

"This 30 date UK tour is to celebrate their 25th anniversary which they are marking with the release of their double CD titled 'Uncovered …The Very Best of Smokie' which has already gone platinum in Norway, double platinum in Denmark and gold in Sweden - the first territories to release it.

"The Smokie and Elkie Brooks concerts are both big shows and they will highlight the sort of special event which we are determined 'Sound of Skydome' will bring to Coventry every month.

"These events will not be formal sit down concerts, the audience will be encouraged to get down and enjoy themselves - the whole essence of this concept is fun."
Smokie will perform all of the 14 hits which have made them long standing favourites with the British public, including 'If You Think You Know How to Love Me', 'Don't Play Your Rock and Roll to Me', It's Your Life', 'Oh Carol' and the classic 'Living Next Door to Alice'.
The five-piece band performance will also include material from the new album with classic songs which have been hits for artists such as Shania Twain, REO Speedwagon and Thin Lizzy.
Tickets for the Smokie and Elkie Brooks 'Sound of Skydome' nights can be purchased by calling at the Arena or telephoning 024 7663 0693.