[15 MAR 01] SKYDOME COVENTRY NEWS
Coventry Gets Its Pants Out For A Laugh

The men and women of Coventry will be showing their "panty lines" as the city drapes its underwear in the open in the name of charity.

The SkyDome Arena has teamed up with Mercia FM to support Comic Relief on Friday and the £7 million venue will sport the largest panty line in the city.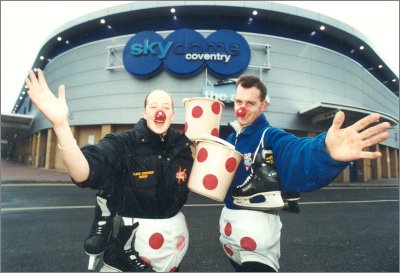 NICOLA JUDD AND WAINE GRIFFEN OF TEH SKYDOME ARENA
Listeners to Mercia have been sending in underwear to the station along with a pound for the charity in keeping with this year's theme of "Pants For Poverty", and all the garments will be hung around the outside of the arena for the next week.
Hundreds of pairs have been sent in so far and that total will be topped up by a collection during the public ice skating session at the arena between 10am and 4pm.
Sarah Cousins, marketing co-ordinator of the SkyDome Arena, said Planet Ice staff at the venue would be joining in the spirit of the occasion:
"Comic Relief seems to have really captured the public imagination this year and we are delighted to help Mercia out with their Visible Panty Line. We are just working out how to string up the garments - but it will certainly be visible.

"All our ice stewards will be wearing appropriate garb on the day and people will be able to give a donation to the charity and leave a pair of pants for the line.

"People can also do the same at any Sainsbury's supermarket in Coventry and Warwickshire."