[15 MAR 01] SKYDOME COVENTRY NEWS
Hearty Hopes That City Clubbers Will Chip In

A Coventry nightspot is hoping its customers will show they have big hearts when it hosts a charity night later this month.

SkyDome-based Jumpin Jaks will give party-goers free admission and have devised a programme of fundraising events throughout the evening in aid of the British Heart Foundation.

The 900-capacity venue has hosted regular charity nights and recently raised over £1,200 for a Coventry children's charity at a similar occasion.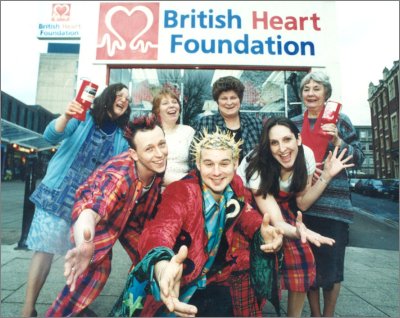 FROM LEFT, BACK: MARGARET TRANTER, YVONNE HAWKINS, LORRAINE TURNER, MARJERIE ALSOP FROM BHF
FRONT: DAVE BARCLAY, CJ LEWINS, BECKY LOVE FROM JAKS
The British Heart Foundation has been chosen as the latest cause after a personal request was made by a member of the Jumpin Jaks staff.
Jane Hemmings lost her father to a heart-related illness and asked the venue's management to consider the BHF for a fund-raising evening, which they will now do on the night of Mothering Sunday.
Jaks manager Andrew MacLeod believes that the success of the live entertainment venue gives them a unique platform to respond to such requests.
He said:
"Sunday nights in Jaks always have a great atmosphere but when we can stay open until 1am to raise money for charity that is heightened even further.

"We had a fantastic response to the last fund raising event with people happy to make donations for the several hours of entertainment that they were getting.

"The popularity of Jaks and the fun loving nature of our customers puts us in an ideal position to combine a giant party with raising money for a very good cause and that is what we hope to do on the 25th."
British Heart Foundation area organiser Sue Bowers is delighted that Jaks is supporting the cause and reveals that the money could be spent close to home.
She said:
"In the past we have provided around £30,000 equipment for Walsgrave Hospital and we are looking to do more with them.

"We finance two thirds of all heart research undertaken and also provide cardiac care equipment, rehabilitations programmes for sufferers and care nurses.

"The offer from Jumpin Jaks to host the fund-raising event is a fantastic gesture and is allowing people to enjoy themselves which is how we like money to be raised.

"Nearly everyone in this country has their lives touched by heart conditions in some form or other and it is great to see this message being promoted by such a well-known brand as Jumpin Jaks."