[16 MAR 01] SKYDOME COVENTRY NEWS
SkyDome Backs Sky Blues To Stay Up

A Coventry nightspot is so confident that the Sky Blues will retain their top-flight status that it has already planned a Premiership survival party.

The Ikon and Diva nightclubs at the SkyDome has followed a group of Coventry City fans who planned their staying up party in January.

The club has ordered hundreds of blue and white balloons and over 100 metres of ribbon for the event on Saturday 19 May.

Former Sky Blues stars Paul Edwards and Michael Gynn have been called in by the SkyDome to show their support for Coventry City's struggle.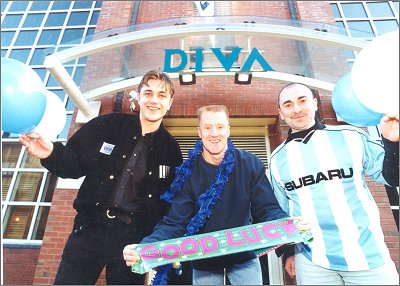 LEFT TO RIGHT: IKON ASSISTANT MANAGER AARON HOLLIS WITH PAUL EDWARDS AND MICHAEL GYNN
The Sky Blues take on fellow strugglers Bradford City at Highfield Road that afternoon and SkyDome manager Ian Knight is confident the game will result in Coventry securing another season at the highest level.
He said:
"We get over 10,000 people a week coming to SkyDome and it is clear how much support and backing there is for the football club - everyone wants them to make it.

"The history of Coventry City is one of the proudest in the country and they have been a credit to the city for decades.

"Myself and a couple of other members of management went to the Chelsea match at Highfield Road recently and saw the club's 'Game On' posters, asking for fans to unite in the cause of staying up.

"We wanted to show the players and staff at Coventry City that we are right behind their efforts and are positive that they will pull through.

"Ikon and Diva will be decked out with blue and white posters, balloons and ribbons on the night of the 19th and I am in no doubt that the city will be in the mood for celebration."
Coventry City commercial director Ric Allison is delighted that the nightclub has shown such confidence in the team and believes that their faith will be repaid.
He said:
"We want the whole city to get behind this effort. We still have four matches to play at Highfield Road and if the ground is packed to the rafters with City fans cheering the team on other sides will not fancy their chances.

"It is great to see a major Coventry complex throwing their weight behind us - I am sure that they will be rewarded with a fantastic night on the 19th."
Picture L to R: Aaron Hollis (Ikon assistant manager) with former City stars Paul Edwards and Michael Gynn who are supporting the nightclub's faith in the Sky Blues.
[16 JAN 01] SKY BLUES PARTY BANKS ON STAYING UP