[27 MAR 01] SKYDOME COVENTRY NEWS
City Skaters Top The 300,000 Mark

A Nuneaton girl got more than she bargained for when she went to the Skydome for an afternoon of ice-skating.

When six-year-old Anabel Badhan donned her blades she was unaware that it was to be the 300,000th ice-skating session at Planet Ice since it opened almost a year ago.

However, staff were quick to inform the Milverton School pupil of her accolade and her prize - a pass for a year's free skating and a goodie pack which included a camera.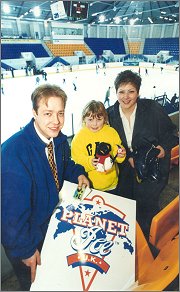 Anabel, pictured with Darren Sinclair and Sarah Cousins of the Skydome Arena, said
"I really enjoy skating and I am getting quite good at it so I come here whenever I can."
Ice Rink manager John Neville is thrilled at the way ice-skating has taken off at the Skydome since it opened last year.
He said:
"We thought it might do well because there is nothing else like it in the area, but to have broken the 300,000 barrier already has gone beyond everyone's expectations.

"The people of Coventry have really taken to ice-skating and so many of them who have tried it for the first time here keep coming back for more."
He also believes that the success of the ice rink is bringing people to the city from further afield.
He said:
"We don't keep any official figures on the matter but I would say we are definitely attracting people from other towns and districts in the surrounding area which can only be good for us and the city itself."