[04 AUG 01] SKYDOME / JUMPIN JAKS NEWS
Lifeguard Jumps In At City Hotspot

A former lifeguard has answered an SOS to join the growing entertainment team at one of the city's busiest nightspots.

Bournemouth life saver Chris Reader, 22, has arrived at SkyDome-based Jumpin Jaks live entertainment bar after impressing at the chain's branch in his hometown.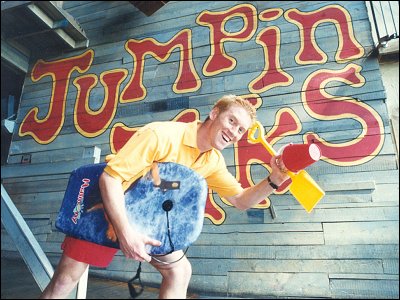 CHRIS READER, JUMPIN JAKS
Coventry's 900-capacity Jumpin Jaks is the most successful in the country and manager Andrew MacLeod believes that is a major factor in bringing the country's top entertainment staff to the city.
He said:
"We are seen as the flagship which is an ideal place for a former life-guard to work!

"Chris impressed hugely in Bournemouth and built up a fantastic rapport with the customers which is exactly what Jaks is about.

"He has been tipped as one of the most promising entertainers in the chain and we had no hesitation in offering him the Coventry post when it became available.

"I was the manager in Bournemouth when Chris first started out in the industry and it is great to see the progress he has already made."
Reader himself is delighted to have been offered one of the leading entertainment posts in the country and is aiming to further enhance Jaks' reputation.
He said:
"Becky Love, the entertainment manager, will be great to work with – I have already seen how much fun she has with Coventry party-goers, hopefully that will be doubled now.

"The idea of Jaks is to make sure everyone has as good a time as possible and I am looking forward to helping the unit live up to its 'best party in town' catchphrase.

"I was head life-guard at the biggest swimming pool on the south coast but when Jaks opened in Bournemouth I believed it was something I could really make a career of – that is now proving to be true.

"I enjoyed my time there but I did not hesitate when I was offered the role in Coventry, it is one of the most respected units and Andrew MacLeod is one of the most respected managers, there can be few better places to continue learning."