[05 AUG 01] SKYDOME / ORANGE HOUSE NEWS
The Orange House Effect Warms To Coventry

Entertainment giant Luminar Leisure is investing £1.5 million in a new outlet at its SkyDome complex in Coventry.

The company will open an Orange House bar and pub on 24 August creating between 30 and 40 new jobs.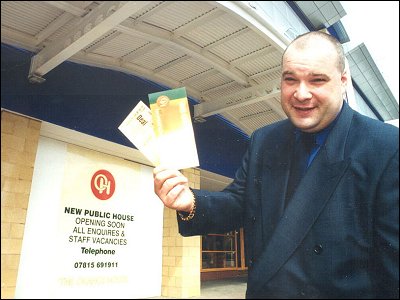 CHRIS TEAGUE AT THE NEW UNIT
Luminar has selected Coventry to be the home of only the fourth Orange House in the new chain after the success of the SkyDome.
The number of Orange Houses across the UK is set to double before Christmas and Coventry will be the most northerly unit.
Orange House brand manager Chris Teague said the company had looked at numerous locations before choosing Coventry.
He said:
"We have been very successful in Coventry but Orange House is something different from what we already offer. It is more of a traditional public house with a twist, and has an emphasis on good food, drink and service.

"We are not a nightclub and, with an 11pm licence, will complement the other businesses at SkyDome. Music is at a level which encourages conversation and we have built up a strong after-work market at our other units. We would expect the same to be true in Coventry.

"We also major on important sporting events, usually showing them on a large screen and serving customers at tables."
Mr Teague said Orange House had already started interviewing job applicants.
"We have had an excellent response and have been impressed with the standard of applicant. We are finding that people respond well to the SkyDome because of the way it has changed nightlife in Coventry, we have had a very positive reaction from everyone.

"We are taking on staff ranging from a new manager to glass collectors and a cleaning team."