WARWICKSHIRE - OUR COUNTY 1998-2001
Priority : Older People

To improve the independence and quality of life of older people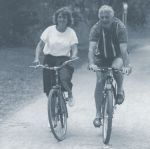 By 2001 over 18% of our county population will be of pensionable age. In Warwickshire there has been a 14% rise in the number of people aged over 85 since 1991. This increasewill be repeated in the next three years. We are working through Warwickshire's Policy for Older People Partnership to improve the quality of life, learning and opportunities for participation of older people. We will help them to live as independently as possible in their own homes. We will increase the amount of staff time spent on making sure that all agencies and organisations work together more successfully to improve the delivery of community support services.
Targets:
We will complete a joint review of services to older people with the Health Authority by April 1999. This will make specific recommendations to reduce the number of people who are inappropriately placed in hospital or residential and nursing homes by expanding and improving community support services.

We will jointly commit with the Health Authority £516,000 by April 1999 to new schemes which will enable older people to be supported at home, reducing the likelihood of residential, nursing home or hospital care.

We will improve our services to older people with dementia by dedicating 9 staff in total, to set up joint community services with the Health Authority in every district by April 1999.

We will dedicate additional staff to set up, with the Health Authority, a community assessment and rehabilitation service for frail older people in Stratford and Rugby by April 1999.

We will work with Age Concern to ensure that our Advice–line consumer services are available and appropriate to older people. 16 surgeries will be conducted in 5 districts by March 1999.

We will work with others to deliver learning opportunities to enable older people to meet the change in lifestyle associated with later life, while encouraging community participation and sustaining the quality of life. We will achieve this by December 2000.

We will produce, by April 2000, a plan for promoting early access to community based services to assist older people, particularly the economically disadvantaged, in developing and maintaining their ability to look after themselves in their own homes.

We will deliver inter–generational activities to help combat ageism, encouraging young and old to share their attitudes, values and experiences, by December 2000.
If you have any comments on this plan or would like to know more then please contact:
Monica Fogarty
Policy Adviser
Clerk's Department
PO Box 9
Warwickshire County Council
Shire Hall
Market Place
Warwick CV34 4RR
Tel: 01926 412514
Fax: 01926 412479
Email: monicafogarty@
warwickshire.gov.uk