ARTISTS OF COVENTRY AND WARWICKSHIRE
James ButlerJames Butler was born in London in 1931 and lived most of early life in Kent. Educated at Maidstone Grammar School and Maidstone School of Art he then moved to London and studied for a further two years at St Martin's School of Art and Royal College of Art. Two years of National Service with the Royal Signals was followed by 10 years working as a professional stone carver.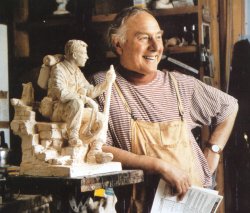 He taught sculpture and drawing at the City and Guilds of London Art School and was visiting tutor to the Royal Academy Schools.
He was first elected to Royal Academy of Arts in 1964 and is a member of the Royal West of England Academy (RWA) and a Fellow of the Royal Society of British Sculptors (FRBS).
His first major commission in 1973, the twice life size statue of President Kenyatta of Kenya enabled him to give up teaching and he has since worked on numerous public commissions and works for private collections throughout the world.
He lives with his wife and five daughters in an old Warwickshire farm house in the heart of England.
SOME OF JAMES BUTLER'S WORKS:
THE STRATFORD JESTER
[CLICK PHOTO TO ENLARGE]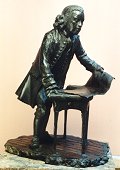 JAMES BRINDLEY STATUE
[CLICK PHOTO TO ENLARGE]