[09 JUL 99] BIRTHS, DEATHS & MARRIAGES
Birth: Eleanor Studman-Badillo
Benita Studman Badillo, wife of CWN Editor Chris Studman, gave birth to a baby girl, Eleanor at 2.43pm on Friday 9 July.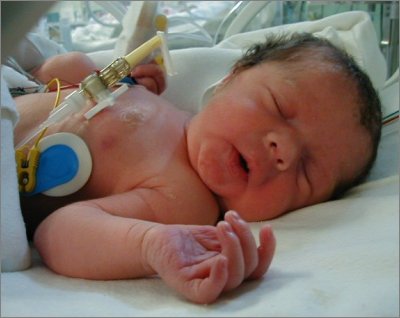 ELEANOR STUDMAN-BADILLO - born 9 July 1999
The birth took place on the Labour Ward at Walsgrave Hospital, Coventry.
Unfortunately there were some problems with the birth and baby Eleanor had some breathing difficulties. However after excellent intensive care in the Special Care Baby Unit she is making very good progress and is now breathing unaided.
Eleanor weighed in at around 2.5kg.
Mother Benita, after some initial discomfort is also making very good progress and was yesterday evening able to visit Eleanor in the Special Care Baby Unit.
Chris and Benita are delighted with their new arrival who will be a playmate for their other daughter Amelia Myfanwy ('Mivi') who will be 2 on 8 September.
They will now set about the task of deciding on a second name for Eleanor.




[CHRIS STUDMAN - 11 JULY 1999]