Guestbook - January 2000
[24 JAN 00] ALDERMOOR FARM JUNIORS
I went to Aldermoor Farm primary school in Coventry (1975-80) and then on to Ernesford Grange secondary school (1981-87).
At Aldermoor Farm Juniors does anyone know when they knocked the apparatus down in the the big school playground?
Ray Daley < ray_p_daley@talk21.com >
[24 JAN 00] GLENN & Co
I am researching my family - Glenn's of Coventry.
My father was Eric Glenn (1908 - 1959), son of Thomas Herbert Glenn and Mary Alice Bailey.
If anyone has any information about the family, the confectionery factory in Bond Street with shops in Hale Street, The Burges and Cross Cheaping which dated from circa 1880 until late 1950s I would be pleased to hear.
Janet Keefe [née Glenn] < Chris.Stiff@ukgateway.net >
[21 JAN 00] FAR GOSFORD STREET
Great site.
My grandfather was born on 1 August 1865 at either 40 or 45 Far Gosford Street, Coventry. His name was Walter Adler, his parents were Henry and Hannah Adler.
I was wondering if either 40 or 45 Far Gosford Street is still in existence.
I am possibly going to visit the UK this summer and I would like to go to Coventry.
Thank you.
Anthony Fontes < Ceseabee@aol.com >
North Easton, Massachusetts USA
(south of Boston Massachusetts)
[EDITOR: Can anyone help with this one?]
[18 JAN 00] SIDNEY STRINGER
I went to Sidney Stringer secondary school in Coventry (1970-75).
I left Coventry in 1979 and now live in Southampton.
Anybody who remembers me please get in touch.
Taz Shah < tazshah@hotmail.com >
[09 JAN 00] RAVENSDALE SCHOOL PHOTO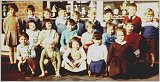 I went to Ravensdale primary school in Coventry (1961-67?) and then on to Bablake (1967/8-74).


My website includes a photo of 'our class' in 1963 or '64, at www.btinternet.com/~parsonal/rvdale.htm
Colin Parsons < caparsons@btinternet.com >
[09 JAN 00] AN AMERICAN AT ALDERMAN CALLOW
I am looking for corresponding with ANYONE from the fourth form class of Alderman Callow School, 1977-78. My 'homeroom' teacher was Mrs Hill and Mr Shields was next door. I was the one from the US whose father was doing resarch at the University of Warwick for the year.
In particular, I am looking for Suzanne Johnson, Julie Williams, Kate Surridge, Karen Ford, and Scarlett Bowman, but would love to hear from ANYONE, former classmates or faculty alike!
Thank you and God Bless!
Margaret Bills [née DuBard] < josephgbills@yahoo.com >
[08 JAN 00] LOOKING FOR OLD SCHOOL FRIENDS
I went to Ravensdale primary school in Coventry (1973-78) and then on to Caludon Castle (Boys) (1978-84). I left Coventry in 1986 and now live in Milton Keynes.
Anyone remember the QUADRANGLE at Ravensdale where you were not supposed to run or 'Frenchy' would give you a slap. Howard Davies, Paul Huxham, Jane Shelton, Sarah Gleadows, Ian Spriggs, Gillian White, to name but a few fellows.
And at Caludon Set 1B Berkeley House, the medievil school from hell. Peter Small, Paul Huxham (again)? All boys together remember?
Mr Sanjiv Oberoi < oberoi@sanjiv1.freeserve.co.uk >
[08 JAN 00] MILLENNIUM EVE WEBCAM
We watched your New Year's Eve on the Web Cam. It was cool.
Since I live in Brantford, Canada we then went out and celebrated our own New Year.
I left Coventry in 1964 at the age of 9.
Donovan Wilson < donovanwilson@home.com >
[EDITOR: In fact over 600 people logged onto the WebCam on New Year's Eve - we think this is a record!]
[07 JAN 00] LOOKING FOR WORK
I am an American who would like to come to the UK to work for a year or more.
I know that I need a working visa and a working permit. I will be coming to the UK in June but I would like to find a job before I come there. Actually, I have to have a job before I come or I can only visit and will be separated from my boyfriend for another year.
I have no experience in anything special. I am coming straight from high school. I am not very good at this type of thing. I am not sure what all the immigration regulations are.
Someone told me that you might be able to help me find a job. If you can not help me, that is fine. Thank you for your time.
Wendy Marie Spann < josset_deupra@yahoo.com >
512 Meadowdale Dr
North Manchester, IN 46962
USA
Tel: 1(219) 982-6599
[EDITOR: Anyone got any ideas?]
[05 JAN 00] BISHOP OF COVENTRY AND LICHFIELD, 1580-1609
I'm looking for information on William Overton, Bishop of Coventry and Lichfield 1580-1609, and on Valentine Overton who may have been his son. Valentine was Vicar of Bedworth.
Was Richard Overton, the Levellor, born 1594, related as well?
And was the Elizabeth Overton who married Sabbath Clarke, Vicar of St Andrew in Tarvin also related?
Have you information on Ephraim Huitt who emigrated to America in 1639 and was author of two books on theology?
Sabbath Clarke's son Daniel came with Huitt and himself became a prominent Connecticut personage.
Thank you for your attention.
D Nehlsen < Wdnehls@aol.com >
[EDITOR: Can anyone help with this one?]
[05 JAN 00] LOOKING FOR THE HURST FAMILY
My name is Natalie Gould and my family used to live in Eastern Green in Coventry when I was a little girl.
I went to Eastern Green Primary School (1982-83). I left Coventry in 1982 and now live in London.
We were very close to another family, the Hursts, for years and practically went everywhere together.
We haven't seen them in 18 years, as we moved away and lost touch. I have dozens of pictures of us all together and would love to meet with them and catch up.
Also I am getting married in June this year and would like to surprise my mother by inviting them along for the party.
The family consist of John, Katy, Craig and Louise. Louise is about my age (25) and Craig is 2 or 3 years older.
Natalie Gould < natalie@ehockaday.freeserve.co.uk >
[02 JAN 00] HIGHAM LANE SCHOOLS
I went to Higham Lane Infants School in Nuneaton (1961-63) and then on to Higham Lane Junior School (1963-67), and finally on to Higham Lane High School (1967-71).
I started in the year that Mr Bred became headmaster. I was form captain for form 3C and 4C. Mr Curtis was our Form Teacher.
Some of the names I remember are Roy Slack, David Pocock, Tony Hopkins, Roger Axon, to name a few.
Do you remember the trip to London with the Deputy Head in the summer of 1969? It would be good to hear from old friends.
I left Nuneaton in 1986 and now live in St Helens, Merseyside.
Philip Turner (Turnip) < March@tinyworld.co.uk >
[02 JAN 00] LOOKING FOR HYLTON HOLT

I went to Ravensdale Junior School in Coventry (1953-59) and then on to Caludon Castle secondary school (1959-63).

Does anyone know the whereabouts of Hylton Holt?

Dave Tilley < eurofighter@breathemail.net >
[02 JAN 00] CAMPION HIGH SCHOOL

I went to Campion High School in Leamington Spa (1974-87).

I'm looking for a school friend called Yvonne Currie who went to the same school. She became a nurse, I think at Warwick Hospital.

Catherine Kelly < ckelly8191@aol.com >
[02 JAN 00] COLESHILL GRAMMAR SCHOOL

I went to Marston Green primary school (1954-60) and then on to Coleshill Grammar (1960-65).

Does any know the whereabouts of Edwina Snellgrove, Gillian Mortiboys, Graham Penson or Martin Jessop?

Sue Lewis [née Lucas] < susanjlewis@compuserve.com >
[02 JAN 00] NEW YEAR GREETINGS
Happy New Year Chris
Thank you for all you great work on the CWN site. I just love it. I have met old friends from all over the world.
Keep up the good work. I hope you and your family have a great new year.
Linda Williams < williamg@compusmart.ab.ca >
[02 JAN 00] NEW YEAR GREETINGS
Happy Millennium. I followed the Coventry festivities on the CWN WebCam and really enjoyed seeing the crowds in Broadgate. I wish I could have been there.
I want to thank everyone at CWN for making the celebration available to us homesick overseas exiles. Job well done.
Bob Nelsen < godiva@jps.net >
[01 JAN 00] LORD COVENTRY
Is it true that there was a Lord Coventry living in Coventry in the late 1800's and early 1900's?
It is alleged that he had a daughter, Agnes who married a commoner, Thomas Gregory, and came to the USA in 1891. Is there a Coventry County?
Thank you and Marvelous Millennium.
Nancy H Grab < ngrab1@nycap.rr.com >
220 Park Avenue
Rensselaer, NY 12144 USA
[EDITOR: Can anyone help with this one? If you can please let us know as well as it sounds a fascinating story]
[01 JAN 00] NEW YEAR WEBCAM
Thanks for the millennium party broadcast!
Much appreciated ... :)
Happy Millennium!
[EDITOR: The CWN webcam showed the new year celebrations in Coventry city centre throughout the millennium evening - our server access graphs showed massive peaks of usage during the evening, especially between 9pm and 10pm for the tightrope walk and again at midnight]