Guestbook - February 2001
[24 FEB 01] LOOKING FOR ANN PAGE
I'm looking for an old friend. Ann Page was her married name, Diegnan was her maiden name. She lived on Lister Road in Atherstone during her teen years, in the sixties. Ann and her brothers and sister Bernadette, used to hang out with me and my brothers and friends.
I would like to make contact with Ann again.
Terry Box < jacktar1@msn.com >
[EDITOR: as always with this type of enquiry we feel it better if you do know the people being sought to ask them first before passing on any information about them - remember they may not want to be found!]
[23 FEB 01] THE COVENTRY 18 PLUS HISTORY
Can you help add to this potted history? Do you know any of the people mentioned below? Have there been any famous members? Can you tell any stories about some of the more interesting characters?
In June 1964 a club was set up in Coventry that was to play a significant part in the lives of hundreds of young adults - that club was Coventry 18 Plus.
Details of the history are sketchy but I believe that it all started with an inaugural meeting at Cheylesmore Community Centre. There followed groups in Holbrooks and Stoke Aldermoor. Coventry members helped set up other groups around the area in Rugby - 1966, Bedford, Nuneaton, Warwick and Leamington.
In the early 70's the Coventry groups developed into Coventry Central, Coventry South and Coventry North. In the early eighties they re-merged as Coventry Central. Today 'Coventry Central 18 Plus' continues but under the experimental name 'Coventry Active Plus'.
This year Coventry Active Plus will be celebrating it's 37th Anniversary in the same year 18 Plus nationally celebrates its 60th year.
Looking through the group archive has thrown up many questions that only past members can give the answers to.
If you have ever been a member of any of the Coventry or surrounding 18 Plus groups you are formally invited to the 'Reunion Dance' on Saturday 21 April at the Gas Sports & Social Club, Middlesborough Road, Coundon, Coventry.
For more details please phone Darren or Sarah on 024 7630 7375.
What ever happen to:
Late 60's - Early 70's members
Dave Monks, Jim Mawson, John Lanks, Scouse, Graham P Goodman, Helen Moore, Yvonne Ravenhall, John Phillips, John Jakeman, Ian Doyle, JA Silverton, John Greenwood, Alan Thomas, Dave Cresswell, John Winter, Geoff Bicknall, Dave Cook, Jose Mawson, Steve Royal, John Crooke, Shirley Knowles, Linda Cawthorp, Malcom Lambert, Hilary Richards, Dave Langton, Alan Thomas, Barry Jolly, Derrick Evans, Diane Barry, John Southan, Peter Hodges, Brian Simons, Helen Griffiths, Dave Wilkinson, Carol Higginbottom, Warren Ward, Susan Shaw, Paul Woods, Christine Hunt, John Stubbs, Brian Howeth, Pat Dufty, Marjorie Thomkins, John Winters, Maureen Glennon, Peter Henshaw, Stuart Sanderson, Bob Holness, Elliott McGlone, Mick Hoyland, Denise Norris, Colin Ivens, Frank Reader, Dia Sutton, John Banks, Maureen Porter, Michael Mohamed, Pam Banks, Peter Bleasby, Maureen Hanford, Linda Murphy, Rose Wheeler, Phillip Fletcher, Martin Pritchard, Frank Tunney, Jenny Kelly, Colin Ivens.

Who was the fantom fan flinger at Caister?

Who was the early morning bugler?
Mid to Late 70's members [venue - The Penny Black]
Malcome Fernandez, Pam Renshaw, Colin Smith, Dick Lawrie, Ann 'Hot Stuff' Currie, Rob O'Gorman, Pete Hellon, Paul Wilson, Martin Gore, Ian Grey, Fran Somers.
Early to Mid 80's [venue - Brandon Golf Club]
Julie Gardner, Penny Underhill, Paul Brown, Paul Barnett, Ann Gill, Scott Gill, Tim Emeney, Charlie Cooney, Rebecca Brown, Kevin Southworth, Les Wood, Laurence Wilkins, Lin Goodwin, Geraldine Wood, Gill Kennett, Hugh Mackey.
Late 80's [venue - The Alhambra]
Jane Illingworth, Rachel O'Gorman, Mike Joy, Pat Harnedy, Michael McHale, Eddie Sheehy, Rob Hollins.
Early to Mid 90's
[venues - Cox Street WMC, The Admiral Lord Rodney, The Alhambra, The Windmill, The Malt Shovel]
Suzanne Henshall, Mike Bogwandas, Jon Painter, Clair Richards, John Phillimore, Jill Pegg, James Dawson, Paul Rayner, Jenny Beauchamp, Catherine Burrell, Stewart Cook, Chris Griffiths, Jan Hume, Paul Ball, Clair Duffy, Alison Banner, Jenny Armstrong, Robert Szurala, Jonathon Boote, Catherine Powell, James ReidTony Smith, Adman Freeman.
If you know the whereabouts of any of these people do tell them to get in touch with us - we'd love to hear from them.
Best regards
Jarrett Smith < covplus@yahoo.co.uk >
Coventry Active Plus
[20 FEB 01] STONELEIGH ABBEY FIREWORKS
Please could you tell me if there will be a firework display at Stoneleigh Abbey this year? If so, where could I obtain tickets.
Many thanks
Sue Grimbly < suegrimbly@aol.com >
[EDITOR: Can anyone help with this?]
[20 FEB 01] GPO BOMBING
Can anyone help me with the date of the GPO Bombing in Coventry in the early 70s?
Thanks
Gloria Lee < glee@landmark.co.uk >
[EDITOR: Anyone remember this?]
[18 FEB 01] WEBCAM VIEWS
Hi all from a Coventry Kid living in Calgary, Canada.
The webcam views are great. When I get a little homesickness, guess what, I just look at the webcam pictures. I remember family, friends,the good times I had in Coventry and that sickness goes.
In fact the whole CWN site is just great - keep up the good work. Here's one big thank you, from a proud Cov Kid.
Rob Webb < robwebbcalgary@home.com >
[EDITOR: Coventry's webcam views are growing - check out the new ones from the CWN webcam page.]
[17 FEB 01] STEANE & BOSWELL FAMILY HISTORY
I am looking for anyone with a connection to the Blue Boar garage on the A45 in Coventry.
May have the surname Steane. It is in connection with my family tree.
The names I am looking for are William Henry Steane, born last quarter of 1800's; his wife is believed to have been Beatrice Parkyrs. Their children were Ethel Lillian Freda Steane who later became Boswell - born in Bodmin district, November 1906. She married Albert E Boswell who was my grandfather. They lived in Radford.
Albert died in 1993, Ethel died in the mid 1960's. They had a daughter named Joyce and a son named Alan. Joyce was my mother - she died in 1992 age 58.
Florence Mary Elizabeth Steane was born 1908 at 1 Grove Street, Coventry. She later married George Austin in Canada - George came from the Midlands too.
They lived in the Kenilworth area. Florence is believed to have worked in a tea shop opposite the castle entrance when she was young. She died in California.
My greatgrandfather was called Albert Nathaniel Boswell and was married to Ellen (Mable) Cutler - one of 7 children.
Any information would be really helpful.
Zoe < paul@pwhitaker.fsnet.co.uk >
[16 FEB 01] WAS THERE A HANDS ON THE CITY COUNCIL?
My grandparents lived and married in Coventry in the 19th century. My grandfather was a watchmaker named John Hands. His wife was Hannah Mary Salmons before marriage.
She dropped her H's as in 'ash for hash. Has time changed usage?
I am learning slowly at the insistence of my grown children about the computer, so I thought would try your website.
If anyone can reply I will be happy and surprised!
Paul Walters < mhwalters1@home.com >
California, USA
[14 FEB 01] WYRE FARM CAMP
Is there anybody still around that went to Wyre Farm Camp? If there is I would like to hear from them.
I was in Radford House with Mr & Mrs Day (teachers).
Dave Barkley (Plant) < brumy635@cs.com >
[08 FEB 01] DAIMLER RADIATOR GRILL
Hello, I am writing to you with a question. I am looking for a radiator grill of a Daimler Conquest Salon and a Coupe.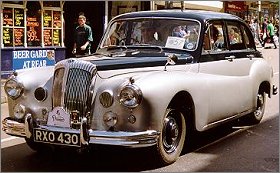 DAIMLER CONQUEST [photograph by Costa Maoudis 1996]
Do you know if there are in England many of these radiators grills for sale. And how much they are asking for these grills?
I hope you can help me and thank you for your reaction.
Goodbye
Ruud de Pater < rpater@mail.hzeeland.nl >
UPDATE [20 FEB 01]:
Ruud has now managed to find these radiator grills - in fact he now has more than he needs! So if you are looking for a Daimler Conquest grill contact Ruud.
[06 FEB 01] ERNESFORD GRANGE x 3
I went to Ernesford Grange infant and junior schools in Foxton Road, Coventry (1974-80) and then on to Ernesford Grange Comprehensive in Princethorpe Way (1981-86).
Does anyone remember me, Miss Withers our tutor (Cappers), Craig Hoye, Kieron Mitchell, John Aubertin, Sanjay Shar, Kalpana Mistry, Rita Shah, Maxine Williams, Yvonne Downey, Kirsy Yates, Mark Adams, Alex McLeary, Carl Young, Lee Marsden, Roderick Owen, Steven Owen, Neil Roberts, Ashley Rouzelle, Joanne Payne, Carla Pilling or Arvonna Fawcett?
If so, get in touch please and let's go over the good old days!
Richard Jackson < rich@coventry62.freeserve.co.uk >
[04 FEB 01] CASSIE / BURACKKI
I am trying to trace my mother and family:
- mother's name: Elizabeth Scott Cassie or Burackki
- sister's name: Ivory Burackki.
Both last known in Bell Green, Coventry.
I would be grateful to hear from anyone who has any contact with anyone called Cassie or Burackki.
John Redmond
< AthollHighlander@aol.com > or < qwahnah1@aol.com >
[EDITOR: as always with this type of enquiry we feel it better if you do know the people being sought to ask them first before passing on any information about them - remember they may not want to be found!]
[02 FEB 01] WILLENHALL WOOD / BINLEY PARK
I went to Willenhall Wood Junior School, Coventry (1956-61) and then onto Binley Park Comprehensive (1961-67).
I was in Aylward House, form A. Mr Spears ('Egghead') was the house head. Mrs Featherstone was the dreaded maths teacher who called all the girls "topsy"! Other girls in the same year I hung around with were Barbara Craig and Sue Strong.
An excellent Binley Park web page is: www.binley-park.org.uk
Sandra Aston < sandra.charley@37.com >