[03 NOV 99] THE JAMM NEWS
The Jamm Perform For Paul Weller's Mum

A Leamington tribute band had to put on their best performance when they were asked to run through their act in front of a very knowledgeable audience.

The Jamm were invited to the launch of the their inspiration's official website and performed their act in front of former lead singer Paul Weller's mother!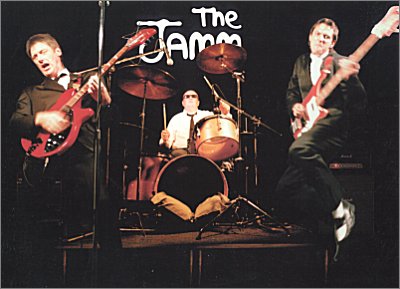 THE JAMM

Band founder and singer John Southorn admitted it was an unusual experience.

He said:
"Not only was Paul Weller's mother there but quite a few different members of his family, as well as drummer Rick Butler.

"I did not get chance to speak to them afterwards but I was told they really enjoyed it and thought it was a good tribute, which is nice to know."
The three-man tribute band was formed in 1996, and are recognised as the leading Jam tribute band in the country, regularly performing at different venues across the country.
They are now also launching a new act called 'The Paul and Liam Show' which includes hits from Paul Weller's solo career and Oasis numbers.
Southorn believes the idea will be a big success but says the band is looking for sponsors to help them promote a tour of the show.
"We held a pilot night at the Spa Centre in Leamington and sold over 600 tickets.

"Everyone who came really enjoyed it and hopefully we can get some backing for a tour of the show."
Along with Southorn there are two other Jamm members – Toby Pelham and Rob Pitts who are all full-time employees of the Leamington-based band.
Found Southorn has lived in Leamington all of his life and has always wanted to be a musician since attending Blackdown High School in the town, and is determined to make The Jamm a success.
He said:
"I think you could safely say we are considered to be the leading Jam tribute at what we do, and we secure gigs up and down the country.

"However, it is not an easy existence and sometimes we are performing until two or three in the morning and then back in the office answering telephones by nine."
Anyone interested in seeing the Jamm live will have the opportunity at the Hare and Hounds pub in Keresley on 25 November.