[30 MAR 99] VALLEY NEWS
Local Band Hit The Smoke

Coventry based

popsters, ValleY, have been given the chance to impress representatives from the record industry at a concert in London.

They are one of five unsigned bands from around the country who are being showcased by promoters, The Talent Scout, at Cairo Jack's in the centre of the capital on Thursday 1 April.
"It's not an April Fool, I promise", jokes bass player Alan, the most vocal of the three band members.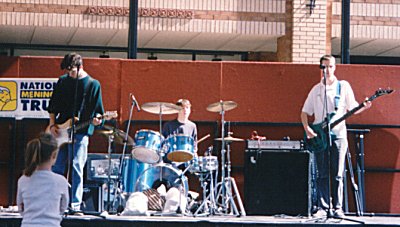 VALLEY PLAYING IN BROADGATE, COVENTRY
The band were recommended to play in London after successful appearances at The Hand and Heart in Coventry and have already impressed the promoters with their demo CD.
ValleY are no strangers to the 'big gig', having played support slot to NME favourites China Drum.
Alan (21), Dan (20) and Tim (21) formed ValleY in 1995 whilst studying at Bablake School, Coventry. After playing at most of the local venues, the bands now strives to reach a wider audience by proving their ability to perform live.
Local fanzine, 'Standing Room Only', described Valley's sound as "power pop at its sweetest, awash with clever bass lines, catchy melodies and angelic harmonies". The same review also said "I can't understand how this band haven't got a deal yet".
The band hopes this industry night in London will be the breakthrough they need.
There are still some seats available for anyone wanting to travel to the concert at Cairo Jack's on 1 April - cost £5.
For more information on this gig, ValleY's new CD 'We are from Mars' or booking ValleY for future dates, contact Alan on 07957 658977 or email the group direct at ToValley@aol.com .