[14 JAN 99] BELRADE THEATRE PRESS RELEASE
4 Steps To Heaven1 - 6 FEBRUARY 1999

THE BIG 'O', ELVIS, EDDIE AND BUDDY IN CONCERT

Belgrade Theatre are delighted to announce that four of the greatest Rock 'n' roll stars The Big 0, Eivis, Eddie and Buddy are on stage in concert for the first time ever in 4 Steps To Heaven which opens at The Belgrade Theatre from Monday 1 - Saturday 6 February and is set to take the nation by storm.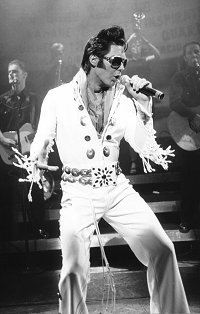 4 Steps to Heaven is a musical celebration of the four greatest Rock 'n' Roll performers of all time: Roy Orbison, Elvis Presley, Eddie Cochran and Buddy Holly.
Inspired by the international Eddie Cochran hit 3 Steps To Heaven this exciting new production is the ultimate concert, a concert that could in fact have taken place had fate not played its untimely part in Rock n' Roll history.
4 Steps To Heaven features the classics Heartbeat, Hound Dog, All Shook Up, Raining In My Heart, That'll Be The Day, Love Me Tender, Oh Pretty Woman, Only The Lonely, It's Over, Blue Bayou, Running Scared and many, many more rock classics that will have audiences dancing in the aisles and screaming for more.
Peter Howarth makes a welcome return as the Big 0 after wowing audiences in The Roy Orbison Story - Only The Lonely, which played to sell-out audiences across the nation. Alex Bourne plays Buddy Holly direct from his appearances in the West End in Grease and Buddy - The Buddy Holly Story. Tim Whitnall plays Elvis and Eddie Cochran following his portrayal of The King in the West End production of Elvis - The Official Musical.
Director Keith Strachan has worked on numerous West End musicals including Elvis - The Musical, Good Rockin' Tonite and Grease. He has also worked extensively as a composer and his credits include Cliff Richard's Mistletoe and Wine, which sold over a million copies in 1988 and the theme tunes for top rated television programmes: The Hypnotic World of Paul McKenna and How Do They Do That?
Lighting Design - Jim Beagley , Musical Director - James Compton.
Don't miss out on this year's feel good musical sensation!
MORE INFORMATION: Cath Pitkethly 01203 846 703