[29 OCT 99] PEOPLE TO PEOPLE COMMUNITY THEATRE GROUP NEWS
People To People Needs More People
A Coventry community theatre organisation is appealing for new members to help with the running of the group.

The People to People Community Theatre Group will lose a valuable member when chairperson and director Ted Clarkson retires next year.

Mr Clarkson and his wife currently take responsibility for the running of the society along with the five other trustees. He stresses that the group still needs more people to help with the administrative side as well as those wanting to get involved in the acting.

He said:
"Myself and my wife do a lot of the admin work, including fund raising, letter writing and other things, but we are leaving next year so we need to recruit help.

"We would also be delighted to hear from anybody who wants to be involved on the acting and performing side, we are always looking for new members."
The group started in 1992, offering people the opportunity to be involved in drama productions and performed their first show at the Belgrade Theatre.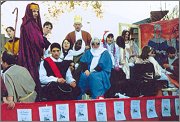 They meet once a week for drama workshops and stage a variety of productions including a Christmas show, which they will be doing this year.

Mr Clarkson said:
"We did the Christmas show a few years ago and it raised a bit of money for us, so we thought 'why not do it again.'

"It consists of poetry, carols and scenes from the Mysteries and this year we will be performing five shows in halls and churches in the area."
The group is also grateful to the city's Belgrade Theatre, which Clarkson admits has given them great help.
"We have staged productions in the past that have cost more to put on than we could get back and the Belgrade have been great friends to us helping when they could.

"Not only have they given us funding but they let us use printing and posting facilities which makes a massive difference."
Anyone interested in the group can contact Ted Clarkson on 01203 457997.