[16 OCT 00] SPA CENTRE REVIEW - DICKIE BIRD
Dickie Bowls Over Leamington
BY ANTONY HOPKER

An evening of chuckles was had by all as one of cricket's great characters entertained the Royal Spa Centre with his tales.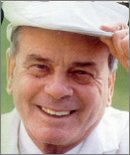 Dickie Bird is one of the icons of the modern game. At a time when the England players were failing miserably, you could always rely on the umpires to restore some sense of national identity.
And our Harold, from Yorkshire, typified that for years. Nervous, twitchy, constantly bothered by something he was loved by the crowd and the players alike.
If there was to be some disaster, it was always going to happen to him.
Tales of some of his more hilarious misfortunes titillated the Leamington audience at the weekend.
Always keen to remember where he was, he slipped references to Edgbaston in whenever he could, but his stories cover the world over.
Most of them centre on his home county, and many contain anecdotes about Geoff Boycott, the man everyone loves to mock.
Dickie, basking in his retirement, is never bitter during his story-telling. Confident and fluent, like a man used to spending hours in the middle of a sporting cauldron, his patter goes down a treat.
He stumbles slightly in the second half, when he takes questions from the audience. One unexpected yorker leaves him stumped, when he is asked the strangest dismissal he has ever given.
And he does get riled when asked if he would like to do television commentary:
"Never been asked. They only ask their mates. Experience counts for nothing these days."
On the whole you cannot deny him his pomp. Umpires, even those as famous as he, do not live a life of luxury, and his autobiography – the best-selling tome ever by a sportsman, has given him some comfort in his dotage.
He ends by thanking the audience for their support, reveals he now drives a Jaguar, and then walks off the stage, straight through the auditorium and settles in the foyer to sign autographs.
One gets the idea that he loves it.