[31 MAR 99] THE BLACKROOM






Hi and welcome to the blackroom. My name is Pauline Black, lead vocalist with The Selecter.

I'm rather enjoying my nights out in Coventry these days. Certainly beats sitting in and watching the box. Every time I go out I meet some helpful soul who tells me about yet another new band that they think I should see.

My definite thanks to young Vasilis Stylianos, who I seem to bump into everywhere I go. He always fills me in on all the local band news and took great pleasure in showing me a gig review of his band, The Hybridize, last week at the Golden Cross, which was excellent. I can't wait to see them. So hurry up and get a gig together guys!
Bands2C : Endless Knot @ The Malt Shovel, Spon End, Friday 12 March 1999

Before I talk about the band, I just want to talk about the brilliant venue that the Malt Shovel has created in the yard out back. A large marquee has been erected, complete with stage, comfortable seating arrangement and an excellently speedy bar.

It's hard to believe that in the middle of the winter, when it's freezing cold outside, that you can step into an exceedingly large tent and get the feeling that it's really a balmy summer day outside. The whole ambience of the place is relaxed and chilled out and this of course puts everybody in the mood to listen to some good music, which is exactly what Endless Knot provided on this particular night.

I take my hat off to the landlord of the Malt Shovel for providing a perfect venue in Coventry. If only more landlords put in this kind of effort, then it would be much more pleasurable for all the bands concerned to play in Coventry. And it works, because the place was packed out.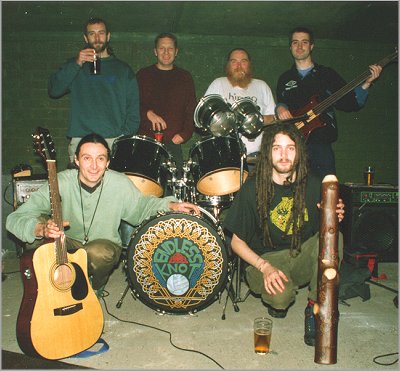 ENDLESS KNOT

Line Up:
Ged: guitar/vox

Baz: keyboards

Binz: fretless bass

Glenn: drums

Terry: violin

Paul: tin whistle / didjeridoo
Endless Knot have been in existence for two years and their experience shows. As soon as they take to the stage, comparisons with The Levellers come to mind, but this is by no means a criticism, because Endless Knot make their own unique blend of Celtic/rock/reggae.
This is a band with well-thought out socially aware lyrics; 'what are your children learning' and 'taking all your freedom away' are samples of what's on offer. On the excellent song 'Coming Down', there is a wonderful melodic hook line and chorus, 'You been so high, now you're coming down again'. A tin whistle plays plaintively during the song, which is then swapped for a harmonica for the sublime 'Walk With Me'.
Ged, the singer, bears a passing resemblance to Paul King, a past Coventry luminary, but fortunately sings a lot better. He also bothers to engage the audience, which is a common problem with a lot of local bands, who often look as though they are afraid of the audience; so much so, that you wonder what on earth made them want to get on a stage in the first place! Ged doesn't have any such problem, as can be heard from the laconic intro to 'All Tied Up', when he shouts 'it's in D minor for all the musos among you!.' Point taken Ged!
'All Tied Up' drops into a beautiful reggae lilt in the middle eight section and lends itself well to the tin whistle solo over it. It's all very relaxed and free-form, but you never lose sight of the actual structure of the song.
'Solstice Moon' tends to betray their roots somewhat. Okay, I can't say I'm entirely into the kind of music that I suppose gets hummed around the camp fires waiting for the sun to come up at Stonehenge. Crystals, dowsing and a yen for Peruvian woollies has never been my particular predilection, but if such people make music like Endless Knot, then I'm not going to argue with their philosophy on life.
'There's no fox-hunters in here is there?' asks Ged of the audience. As if anybody would dare to stand up and declare themselves, even if they were! Ged knows he's on fairly safe ground with this comment, because the audience are all well-oiled by now and consist of a broad cross-section of locals, students, groovies and wiggers, in fact you name them and they were there.
The anti-fox hunting song turned out to be an almost ska-ish tune. People were instantly on their feet and dancing.
Up next were songs featuring a mandolin, a didjeridoo which was a bit inaudible over the PA, but looked as though it was being well played (ie circular breathing was being employed, instead of the usual huffing and puffing that you see when a novice tries to play this instrument).
Finally, their name-sake song, 'Endless Knot'. A lovely song, which exhorted the audience to join that metaphorical endless knot of life (at least that's what I think they meant, because they didn't look as though they needed any new members in this already burgeoning band!).
Everybody joined in singing the chorus, which went something like 'Stand Up Turnaround, Take Somebody by the Hand and join the Endless Knot' and ended finally with 'Get Knotted' being vociferously chanted by all and sundry.
By now many people were up and dancing and demanded the band did a final well-deserved encore. The band obliged with a song which sums up Endless Knot with the hook line, 'roots/rhythm/reggae in a Celtic style'. This was a perfect song to end a perfect evening.
If you are interested in seeing Endless Knot, then they will be playing the Malt Shovel again on 23 April. See you there!
Bands2C :

Spunge @ The Golden Cross, Coventry, Monday 15 March 1999

I'd heard a lot about Spunge already, not least from within my own ranks of The Selecter. Before Christmas, Spunge had approached our bass player Nick Welsh to produce their latest album. Apparently, he worked on a couple of demos with them and decided that he didn't fancy the job; more than this I can't get him to tell. So I was very interested to see what they had to offer.

Spunge played the Cross last year to a good reception, when they were promoting their 'Kicking Out The Pigeons' EP, which had received a rave review in Kerrang. Now they are doing an humungous tour of Britain and Europe, under the auspices of their new record label, the ubiquitous (at least in the ska world) New York based Moon Ska Records. Their debut album, entitled 'Pedigree Chump' is now on offer, before they test the ska waters across the pond.

Spunge are a 5-piece, vocals, lead and rhythm guitars, bass and drums and from what I saw they should have no problem with their Stateside tour.

For the uninitiated in the ska world, America has ska bands literally crawling out of the college wood-work; there are hundreds of the little buggers, who all pretty much sound like Spunge. If this thought fills you with horror, then skip to the end of this review dear reader! For those with stronger stomachs, suffice to say that Spunge have done their homework well, albeit in a rather 'Bart Simpson-like way'.

Immediately Spunge hit the stage, the audience was on their feet and dancing (a cross between pogo-ing and generally throwing themselves about). The hardest posse were the 'skateboard kids', who knew all the words and looked as though they were having a fab and groovy time.

Imagine a sound, which is a cross between Bad Manners/Green Day/Rancid and you'd be getting the general idea of what's on offer. On one of the songs a bit of The Proclaimers 'I would walk 500 miles' is thrown in for good measure.

Lots of Na, na, na na choruses punctuate this melee, which is very reminiscent of US ska band, The Toasters, whose lead singer, the aptly named Bucket, runs Moon Ska Records funnily enough.

Spunge are tuneful, with plenty of immediately catchy choruses, coupled with good tight rhythms, although I felt the drummer was a bit loose on this particular night, but they admitted themselves that they were all really tired and were looking forward to time off the following day.

A new rockabilly song was aired to general audience approval and somebody wobbled up to me and said that they reckoned Spunge were the best band that they had ever seen. Well who am I to argue with such youthful fervour?

Last song of the set was a golden oldie, the Toots and The Maytals cut, 'Pressure Drop'. Spunge managed to make this sound new again, by slowing the rhythm down for the verses and speeding into the choruses which engendered much furious pogo-ing among their adoring crowd, who wouldn't let the band go and loudly demanded an encore.

All in all a good band, but for me, our local ska band, The Superheroes is head and shoulders above Spunge. Spunge are good, don't get me wrong, but The Superheroes offer a new spin on ska and long may they reign.
Future tense
Well that's it for this week. Next week I shall be reviewing two acoustically based bands, Smoking Joe's Café and The Somethings.
E-mail me at blackroom@cwn.org.uk if you know of a good band that you think I should see.
Till then adios amigos and may all the bands you see be good!!!
ALSO THIS WEEK: RODDY 'RADIATION' BYERS