[25 JUN 99] BUSINESS LINK PRESS RELEASE
Business Is Ballooning

Partying in Warwickshire and beyond, is reaching new heights - thanks to a recently launched venture in Stratford upon Avon.

Party Pzazz opened its doors in Stratford's Minories shopping mall just six months ago, helped by The Chamber's Enterprise Link service.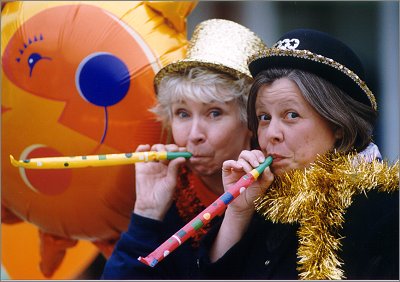 (LEFT TO RIGHT) MAXENE POWELL-JOHNSON FROM PARTY PZAZZ WITH CAROLINE RILEY, BUSINESS ADVISOR FROM THE CHAMBER'S ENTERPRISE LINK DIVISION

The new enterprise is the brainchild of Maxene Powell-Johnson, who says that the demand for party props is now ballooning.
"Whatever the event, from a birthday or a wedding to a conference or sporting dinner, we are here to help make it a success," said Maxene.

"As well as decorations, we can arrange special surprises and provide gifts such as balloons in a box or personalised hand-made 'bomboniere' containing sweets or chocolates."
Maxene lived in Bahrain for 14 years before returning to the UK in 1992 when her husband Stuart was taken ill. Sadly, he died in 1993.
Her experiences as an ex-pat, and local research, showed that British people were not always sure about how to make the most of celebrations and corporate events.
"While I was abroad, we mixed with a real cross section of people from all over the world and learnt about holding parties in different cultures.

"Coming home, I wanted to help party-givers, and 'goers', in the UK to get the most fun out of their event," she said.
Having decided to set up her own one-stop party shop with the help of new husband lan, Maxene turned to the Chamber's Enterprise Link to find out more about the day-to-day aspects of running a business.
She attended a series of courses on a range of topics from book-keeping to marketing, and with help from Enterprise Link adviser Caroline Riley, formulated her first business plan.
"As well as providing sound commercial advice, Caroline's enthusiasm was inspirational in those early days," said Maxene.
Today, with help from lan, son Rick and a part time student for the busy times, turnover has already tripled.
As well as local customers who include the Royal Shakespeare Company, The Greek Connection and Shipston Home Carers, Party Pzazz has also supplied 'flamingo air walkers' and 'rocket balloons' to South Africa, and 'a balloon in a box' to Bosnia.
Recently, Maxene was elected a member of the Guild of Master Craftsman, for her creative work on the bomboniere. She is also a member of the National Association of Balloon Artists and Suppliers and the Qualatex Balloon Network. Maxene has also launched a full event planning service and is currently planning a number of large weddings.
According to Caroline, Maxene's business looks set to boom over the coming months - with the Millennium on the horizon and the promise of the best party season ever.
"As well as building the business, I intend to have fun along the way!" added Maxene.
MORE INFORMATION: Jane Grant or Tracey Hewlett 01926 425533