[12 FEB 01] CITY CENTRE COMPANY NEWS
Arson Set-Back, But Precinct Work Continues

Building work on two key developments in Coventry's Lower Precinct is to start this week, but an arson attack has damaged several buildings in the area.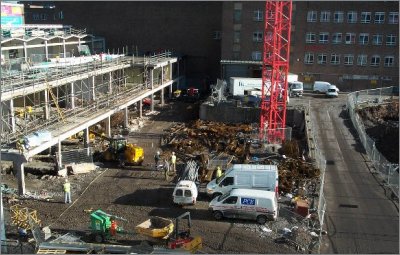 WORK CONTINUES IN THE LOWER PRECINCT
The fire was started on Saturday night in the service area of the now-empty C&A store.
Smoke damaged several nearby buildings and a man in an empty building had to be rescued by firefighters and treated by paramedics.
The buildings that were damaged are all being smartened up as part of the redevelopment of the Lower Precinct, which will be completed in the autumn.
This week work on a new walkway between the market and the Lower Precinct is getting underway.
Public toilets will also be installed in this area, called the Sherbourne Arcade once the development is complete, and the aim is to attract more people into the market area.
Work to lay the foundations for on a new multi-story car park to cope with the expected increase in visitors is also expected.
The car park will be opposite the Co-op in Queen Victoria Road.
Peter Collard, of the City Centre Company, said:
"The Lower Precinct development is moving at a steady pace and to the planned timescale. Costain Skanska are doing a great job at continuing with the building work, and every time I visit I see huge changes and improvements.

"Once completed, the Lower Precinct promises to be a great crowd puller for shoppers and visitors to the city centre alike which can only mean good news for Coventry."
Terry Evans, project manager for Costain Skanska, said:
"The planned phases of the development are running to plan. I am delighted to see the development taking shape as we begin to link up with the market area with the building of Sherbourne arcade.

"The car park will mean that the city will be able to accommodate the number of visitors who use their cars to get into the city centre and will hopefully provide adequate parking for shoppers."
SEE [06 FEB 01] GLASS ROOF ARRIVES IN LOWER PRECINCT