[14 MAR 01] CITY CENTRE COMPANY NEWS
Garden Challenge To Coventry Schools

Budding junior garden designers in Coventry are being offered the opportunity to see their planting ideas turn to reality in a city centre park.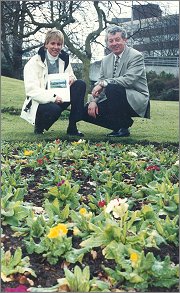 Coventry schoolchildren are being invited to demonstrate their maths and design skills in a practical way by planning and planting a bed of summer flowers in Greyfriars Green.
English Landscapes, which is contracted by the City Centre Company to plant and maintain the flowers, shrubs and trees within the inner Ring Road, has thrown out a challenge to all primary schools in the city.
Schools wishing to take part can obtain an information pack, including tips for the young designers and colour sample sheets of suggested types of bedding plants to be used.
A special bed has been set aside for the winning design to be planted up and the children will be able to monitor its progress as it reaches full bloom.
The plants for the scheme are to be provided by Will Lamb of Baginton Nursery, who will also be among the judges.
Roger Bache of the City Centre Company said:
"We will be filling the city with summer blooms again this season and we thought it would be a great idea to enlist the help of our young people by running a competition for schools.

"They will have the opportunity to choose the plants to produce a colourful display of flowers for everyone to enjoy.

"A selection of the children's designs will be displayed in the Central Library. The designers of the winning entry will be invited to help the English Landscapes' staff to plant up the scheme in late spring or early summer.

"It will give them a sense of pride to visit the park from time to time to check on the bed's progress.

"We have already had a number of schools responding positively to the competition and if the idea proves successful, we may consider extending it to include further flower beds in the future."
The closing date for entries is Friday 20 April and the winners will be notified on 30 April.