[16 FEB 01] COVENTRY PEOPLE'S ACTION NEWS
Elected Mayor Mooted To Solve Traffic Chaos

Cars could be banned from driving through sections of Coventry city centre and campaigners are considering forcing an election for a directly-elected mayor to stop the proposal.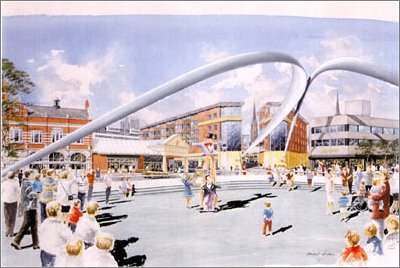 THIS SQUARE WILL REPLACE THE CURRENT CROSSROADS
The crossroads between Hales Street, Trinity Street and Fairfax Street will be shut to all traffic as part of the Phoenix Initiative.
Buses that used to go over this crossroads from the south of the city will instead go around a gyratory formed by Hales Street, Burges and Trinity Street.
Motorists used to being able to drive around the city centre are furious at the moves as they believe cars will be banned from using these streets.
They are joining forces with protestors who want to save the Hippodrome and those who are angry about the decision to put toilets in place of the the library information centre at a special meeting tomorrow.
Coventry People's Action group are trying to collect the necessary number of signatures that will force Coventry City Council to hold a referendum to see if people want a directly-elected mayor.
Thousands of signatures are needed to make the vote happen.
Tomorrow's meeting in the Greyhound Pub in Much Park Street, from 2pm, will discuss the strategy. It will be chaired by former councillor Ron Morgan, who now runs the Toy Museum.
Irene Shannon, of the Coventry Society, said the meeting was part of a wake-up call to councillors to listen to what people in the city wanted to hear.
She said the latest traffic proposals would "kill the city centre" and must be stopped.
Mrs Shannon said:
"How will people be able to drive from one part of the city centre to another. It's hard enough as it is. I don't know how to give directions in the city centre any more."
Chris Beck of the Phoenix Initiative said cars "might" be banned from using the roads as part of a later stage of the development if congestion got too bad.
But he confirmed that the road closure would take place at the crossroads as part of the building of Millennium Place.
He said:
"I can't say what the buses will do because I don't run them. The bus companies are considering what to do."
A bendy-bus might be the only vehicle allowed across the square as it is environmentally-friendly and will go under the millennium bridge linking the square from the other parts of the Phoenix Initiative development.
SEE [15 FEB 01] CAMPAIGNERS TRY TO LIST DOOMED HIPPODROME